It's been over a week since the highly anticipated No Man's Sky has released on PlayStation 4, and while the excitement around the game is still high, folks are coming down from that mountain and wondering, well, whether or not the hype was worth it. No doubt the game is ambitious, and without question the game will sell well, but how much of a game is actually there? And what good is a game if it's not fun to play? I've spent several hours with No Man's Sky and while the game isn't exactly the space romp I was expecting it to be, it's still got me intrigued for what could come.

Before launch, No Man's Sky seemed like a space exploration, do anything you want kind of game. Upon release however, it's really more like a survival, do the same things over and over kind of game. As you're exploring planets, mining for minerals, discovering new species, upgrading your ship, and so on, you'll constantly be barraged with messages to recharge your suit's life support system. Though the elements to do so are usually plentiful, hearing that your life support system is low again and again gets annoying. Also and arguably more annoying is the lack of inventory spaces. While mining for elements and picking up trade commodities you'll run out of pocket space to carry everything resulting in frequent trips to the space station or trade post to pawn your goods and start over. From early on, No Man's Sky is a lot of inventory management and not much else.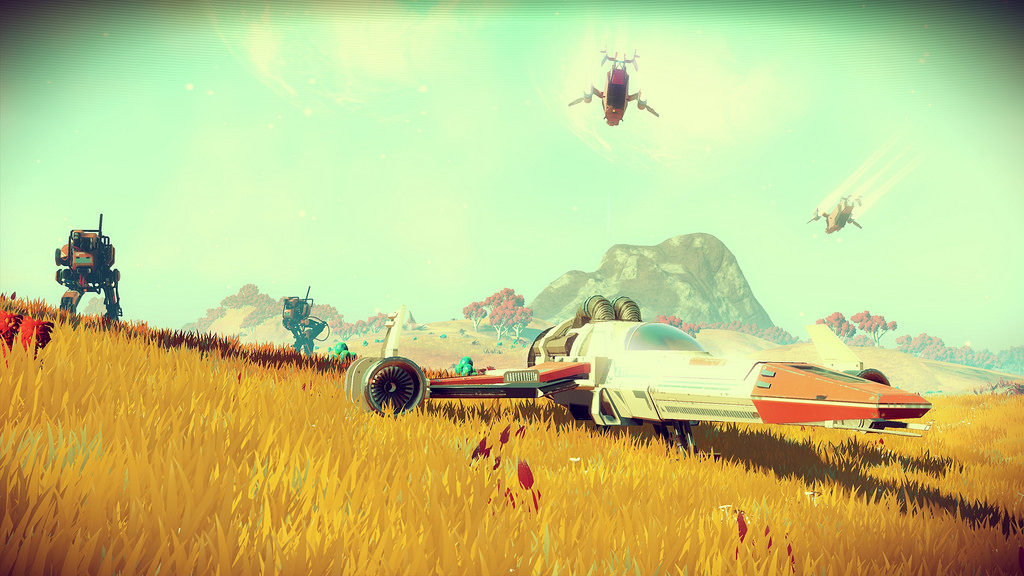 Progression in No Man's Sky is hard to track because there isn't a real story to follow. At most the biggest semblance of story is to follow Atlas toward the center of the galaxy, but even this tidbit of information is little to go on for why you're on the outside of the galaxy in the first place. There aren't any clues to nudge you in the right direction either; for several systems I found myself just jumping from planet to planet, mining some elements, picking up some loot, trading it in, and going to the next system. Without any conflict to pique my interest, relevant plot or characters to drive my actions, it feels as if I'm just flying around space for no good reason.
I'm starting to think this is exactly what the developers wanted. The team didn't give you a grand story or a big plot piece so you can freely do whatever it is you want to do in this sort of sandbox. I have a group of friends at work who are also playing the game, and each of them have had different experiences while playing. And for that matter, they're all attacking the game differently. I'm finding it fun to find out just what the different alien factions are doing (and saying!), and why they seem to not like the robotic Sentinels. My friend Pauline enjoys discovering each and every plant and animal on a planet, naming them, and uploading it to the server so anyone else who goes there can find her masterpieces. Deinah is finding it fun to upgrade her ship and multitool to be the best possible pieces of equipment, so she can explore and fight more easily. We're each enjoying the game, and for our own reasons.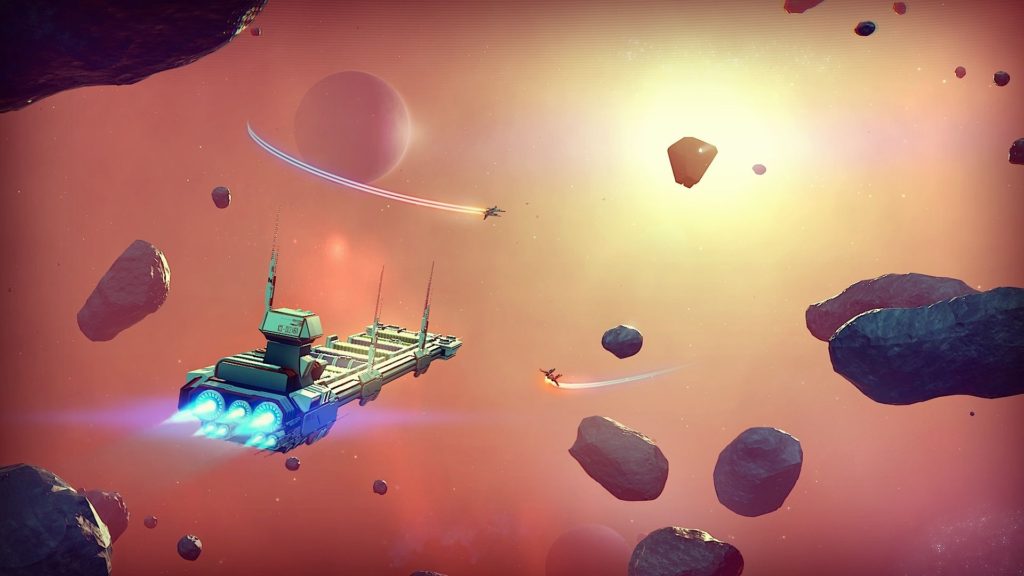 Imagination is at play. I find myself playing No Man's Sky for a couple hours, then thinking how I've been doing the same things over and over again, and then the next day start to wonder what the next planet will hold. Maybe as I progress closer to the center of the galaxy there will be full civilizations to uncover? Cities with actual aliens living, and not just derelict ruins left behind from some ancient alien race. I like to tell myself that is what is going to happen, and that I am on my way to discovering those cool features. But nothing in the game has been said about this. There are hints that I'm taking to mean this, but I'm not certain. What if I get to the center and all that's there is a congratulations message that the game is over and I can keep exploring? I refuse to believe the game would be made solely as a sort of reverse-Minecraft with nothing else to it, especially after being marketed in such a way. So until I can get to the center, I'll hold judgment.
What have you guys been doing in No Many's Sky? Have you found anything worthwhile? I've found a nice Pineapple-esque creature that brougt a warm smile to my heart, as well as a pretty badass space battle between several freighters and dozens of ships (which I engaged in and was immediately blown to pieces). I'm hoping there are more pieces like this for me to uncover. Let me know you're cool sightings, and maybe (if it's even in the game) we'll see each other out there some day!
Laters,
Jsick