A personal favorite of mine, and essentially the precursor to quick time events, Die Hard Arcade was something really special. A rebranding of the Japanese game Dynamite Deka, the action beat 'em up took the ideas of the Die Hard film and plastered them over this game that had only very loose ties to the Bruce Willis movie and hoped the players wouldn't notice. Fortunately the game was too good to really even care.
As you're making your way up the tower (Nakatomi Plaza, one would presume) you take on more and more foes, as you would expect from a side scrolling brawler. There are fun temporary weapons to get along the way, like guns, brooms, fire hoses, and even rocket launchers. Simple melee combos and jumps round out the combat experience. You can run through the story with one or two player's simultaneously. Playing with a partner is really fun, as the chaos just multiplies and you'll definitely have a few laughs.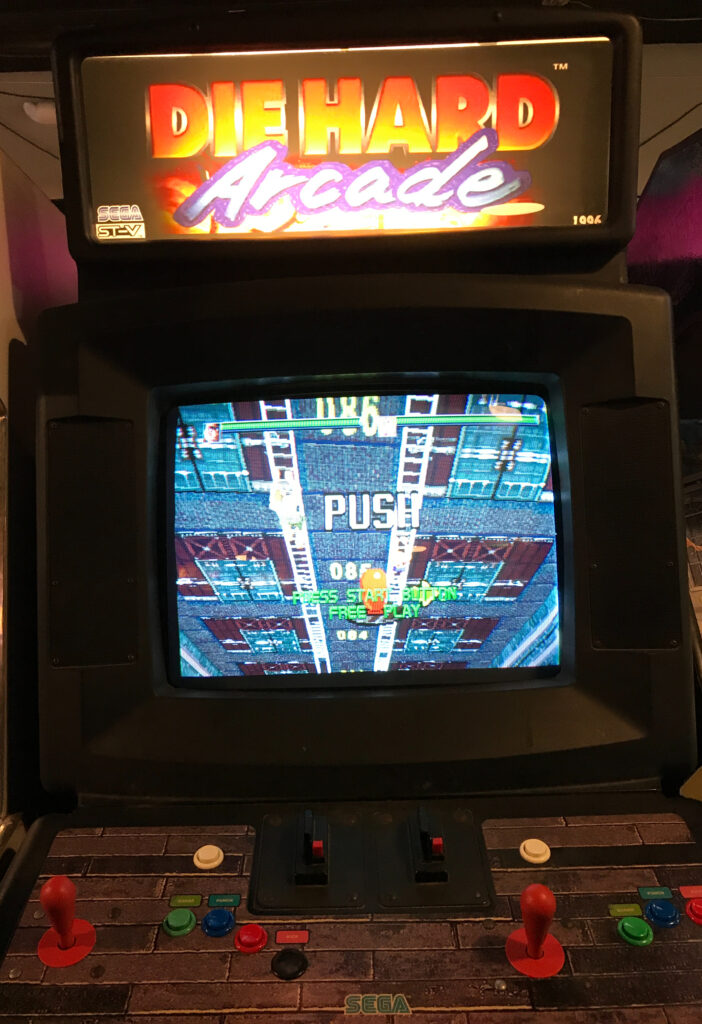 As mentioned before, this game also features what can only be described as quick time events. Between action missions, you are given a short cutscene. In this scene, you might be running down a hallway, only to turn a corner and see a pair of foes in front of you. The game prompts you to quickly press a random button in order to take out the bad guys and keep moving forward. Succeed and you'll continue onward, fail and you have a short battle ahead of you. I really enjoyed this aspect of the game, as it not only made the game stand out from other titles, but was also pretty fun! I also appreciate how the game changes the button presses each time: it's now always "Press Down" for the first mission: it changes each time to keep you on your toes.
This game was only ported to one console in the States: The Sega Saturn. With no other ports or re-releases, the game can fetch a pretty penny these days. If you want a game like this and you own a Sega Dreamcast, you can pick up Dynamite Cop. It is the direct sequel to the original game Die Hard Arcade is based on (Dynamite Deka) and is a bit cheaper and just as good as the original!

Should you find this machine in an arcade, you should definitely give it a chance. It's solid and stands the test of time, and is unique with it's quick time event intervals. You won't be disappointed!
Laters,
Jsick
*Played at Galloping Ghost Arcade in Brookfiled, IL 2019