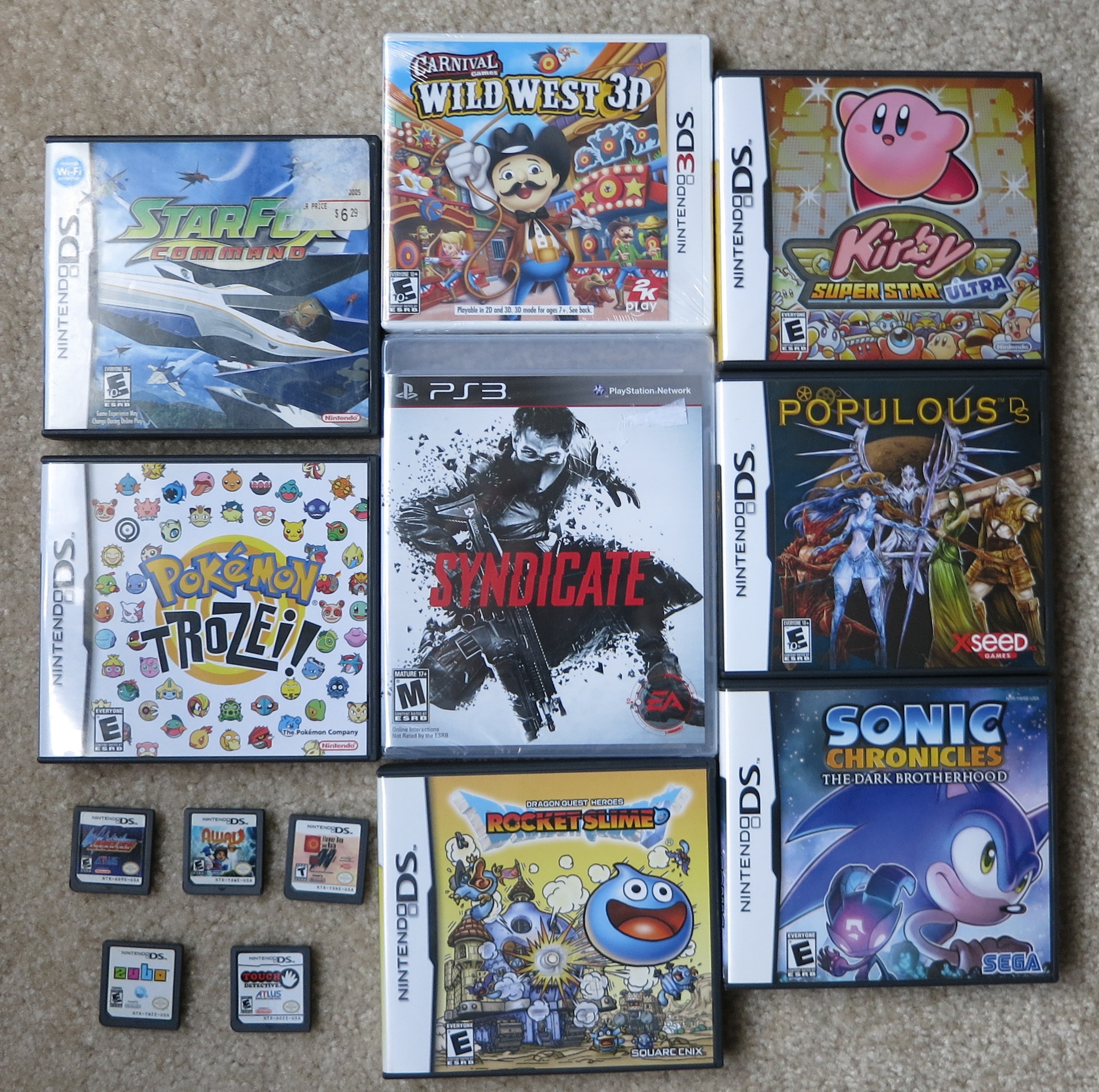 A strange week this week. I can't recall any other week in which I bought this many loose games (garage sales notwithstanding). As the DS is reaching the last few months of its lifespan at retailers shelves, the likelihood of finding any games complete anymore is a dream which only occasionally comes to fruition. With that in mind, I decided to peruse the loose DS game stacks at three separate GameStop's and came up with some great finds! Now I'm actually curious about other loose finds at other stores, so I think I'm going to be looking through those racks more often. Oh, and more games from eBay! Yay!!
---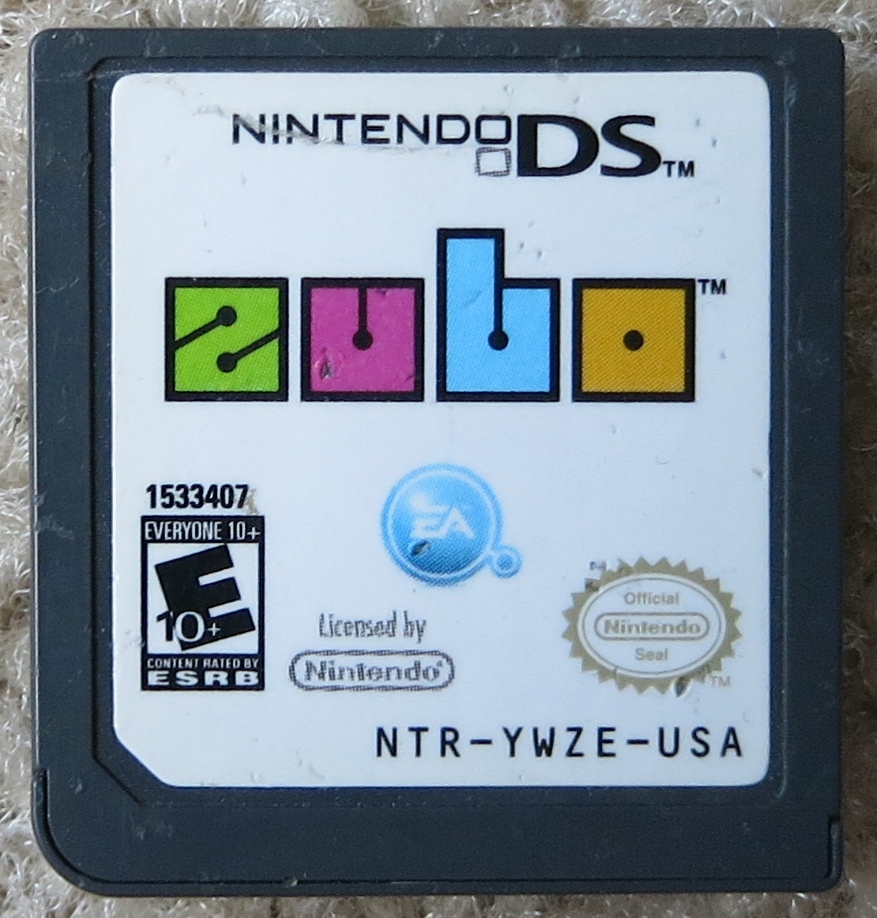 Zubo
DS
Release Date: March 10th, 2009
Purchased at: GameStop (Sunnyvale, CA – $4)
On more of the expensive end, I decided to pick this one up loose because the likelihood of me finding it complete for a decent price is near nonexistent. Zubo is an RPG/puzzle hybrid from EA. To be perfectly honest, I thought the game was going to be kind of lame, but then I tried it out and found it to be kind of entertaining! Turn based battles, interactive combat, and, oddly, touch screen movement all kind of made the game fun for me. Having never heard of this game until recently, I fear a lot of gamer's probably missed it completely.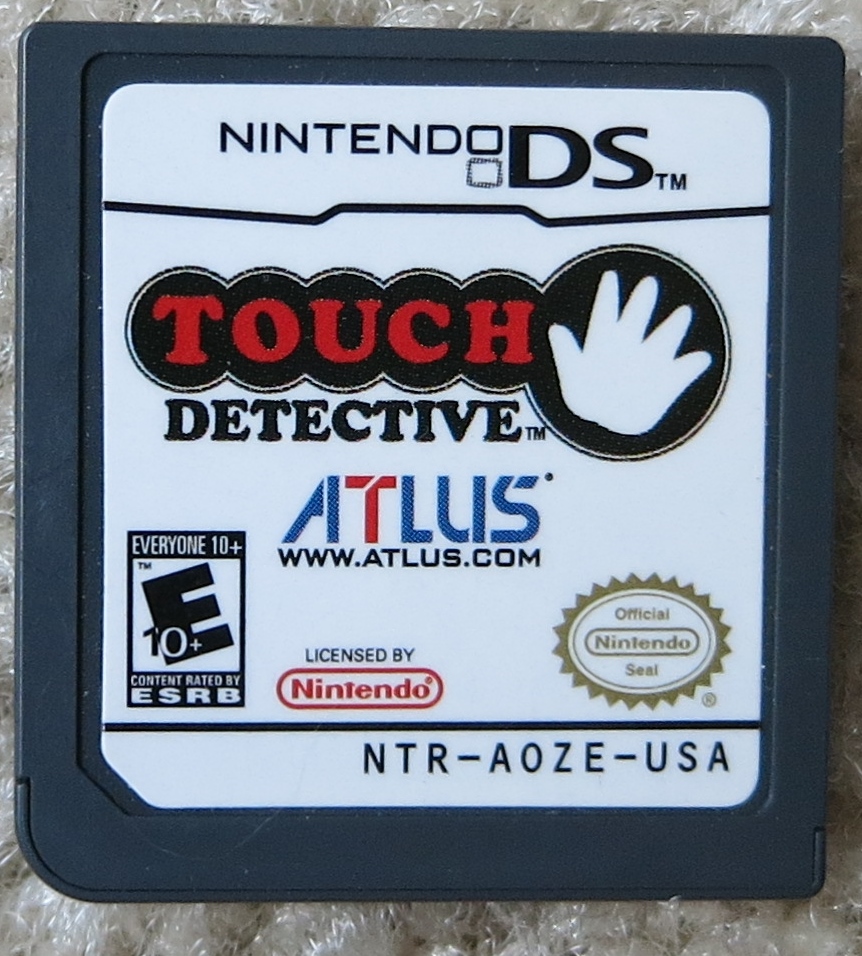 Touch Detective
DS
Release Date: October 24th, 2006
Purchased at: GameStop (San Jose, CA – $3)
Whooo, what a good find! Unfortunately it's not complete, but I'll be plenty happy with this game loose (and maybe I can get lucky and find a case on the cheap later). Touch Detective is an interactive detective game by Atlus that features freakin' adoreable art and visual direction. There is a sequel that I need to find as well. Beyond that, there's a third game in the series, but it was only released in Japan. Maybe someday they'll bring it overseas, but that probably isn't too likely.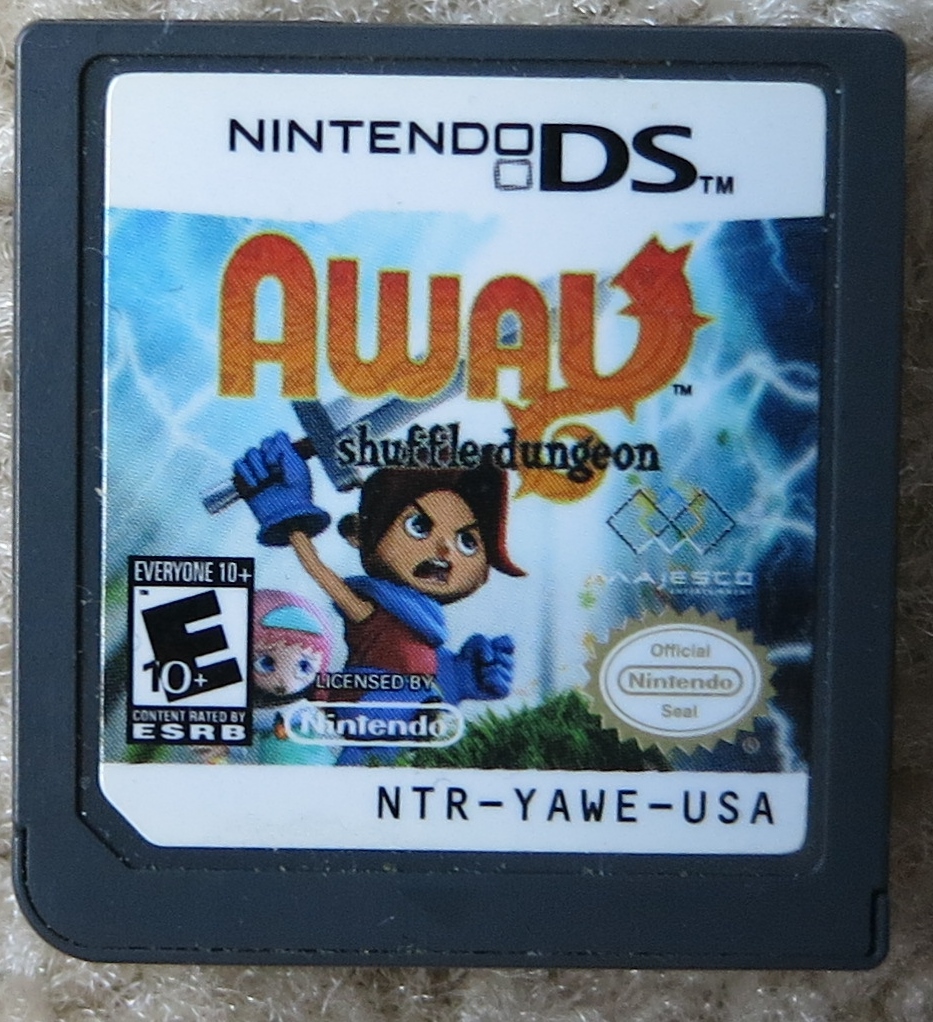 Away: Shuffle Dungeon
DS
Release Date: October 30th, 2008
Purchased at: GameStop (San Jose, CA – $3)
Whoa! I did not know this game was developed by Mistwalker, the company headed by Hironobu Sakaguchi, the creator of the acclaimed Final Fantasy series! Beyond that, the game is also composed by none other than Final Fantasy composer Nobuo Uematsu! We're just a Yoshitaka Amano away from a full fledged Final Fantasy spinoff! And all from a game that flew completely under my radar. With my short amount of time spent on it, I did think the way the game handled dungeon exploration was rather interesting. I think I want to play this one for sure!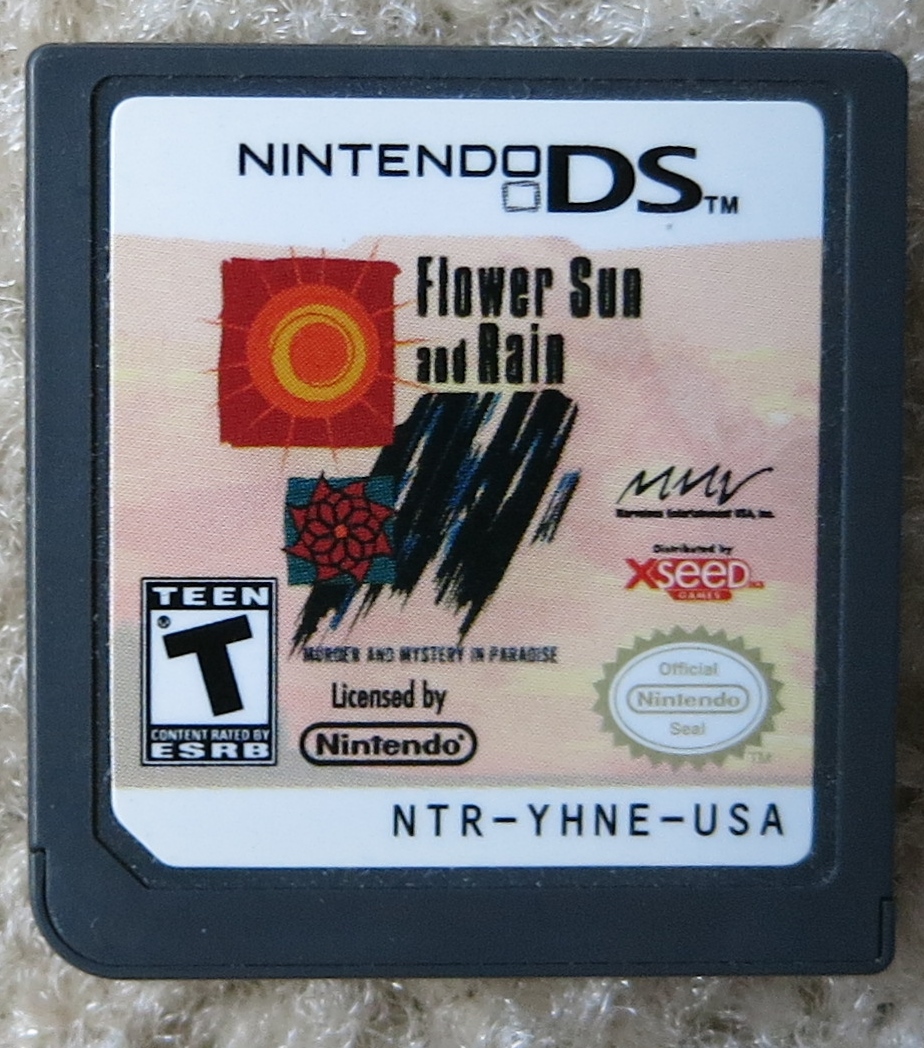 Flower, Sun, and Rain
DS
Release Date: June 16th, 2009
Purchased at: GameStop (Sunnyvale, CA – $3)
Another interesting factoid for this week; Flower, Sun, and Rain was created by Goichi Suda, better known to most in the gaming industry as Suda51, the creator of the No More Heroes series, as well as the more recent Killer is Dead! Drastically different than those other titles, Flower, Sun, and Rain is a story driven adventure which has you searching around for people's stuff. Or at least that's what I'm gathering from the game's outline online. Also fun fact, it was originally released on the PS2 in Japan way back in 2001! Yay random gaming trivia!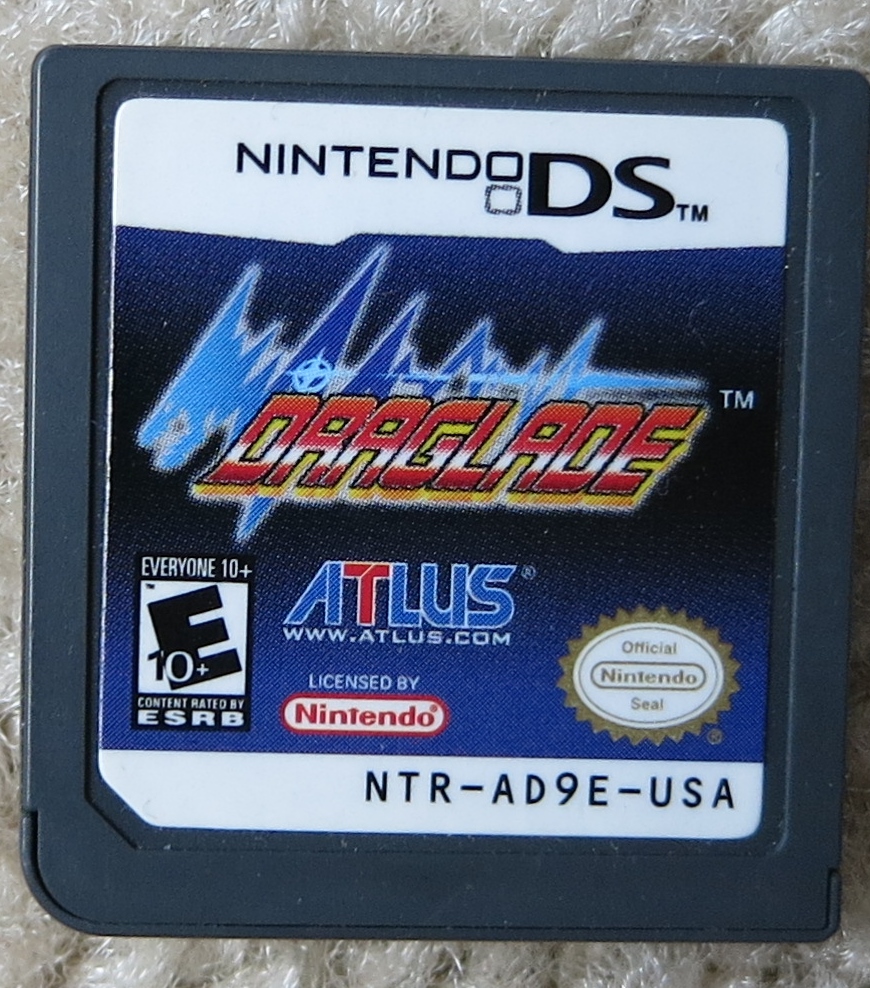 Draglade
DS
Release Date: December 4th, 2007
Purchased at: GameStop (Sunnyvale, CA – $4)
A completely random pickup while searching through the loose DS games. I saw a dragon-like image in the background image on the cart, I saw it was by Atlus, and I saw it was less than $5. With all that into consideration I decided to give it a shot, and wouldn't you know it, the game's a fighting game! Interestingly, the game uses some fairly basic controls to perform rather complicated moves, but it all looks really fluid on screen. Chances are I won't be getting to play much of this, but still, I'm glad to have it in the collection.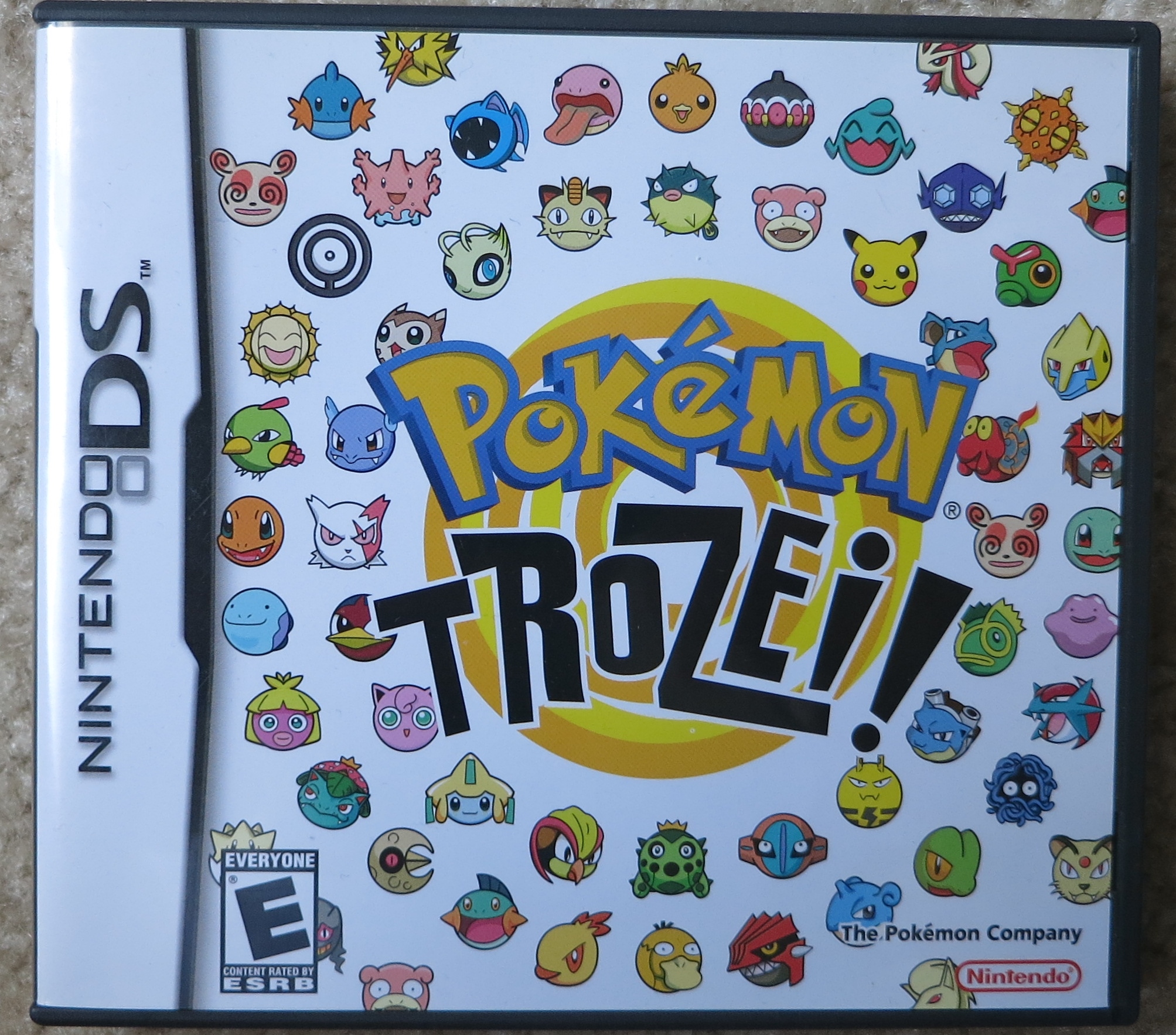 Pokemon Trozei
DS
Release Date: March 6th, 2006
Purchased at: eBay (Online – $12)
I have been following the Pokemon Trozei listings online for awhile now, and usually the auction sell for around $15 to $20 complete, occasionally lower, sometimes higher. When I was looking for the game on this specific day, I happened across this "Buy it Now" auction for the game, complete, for just $12 (shipping included)! Naturally, I made sure it was working and I purchased the game. I actually bought it while I was at work, so props to mobile game hunting!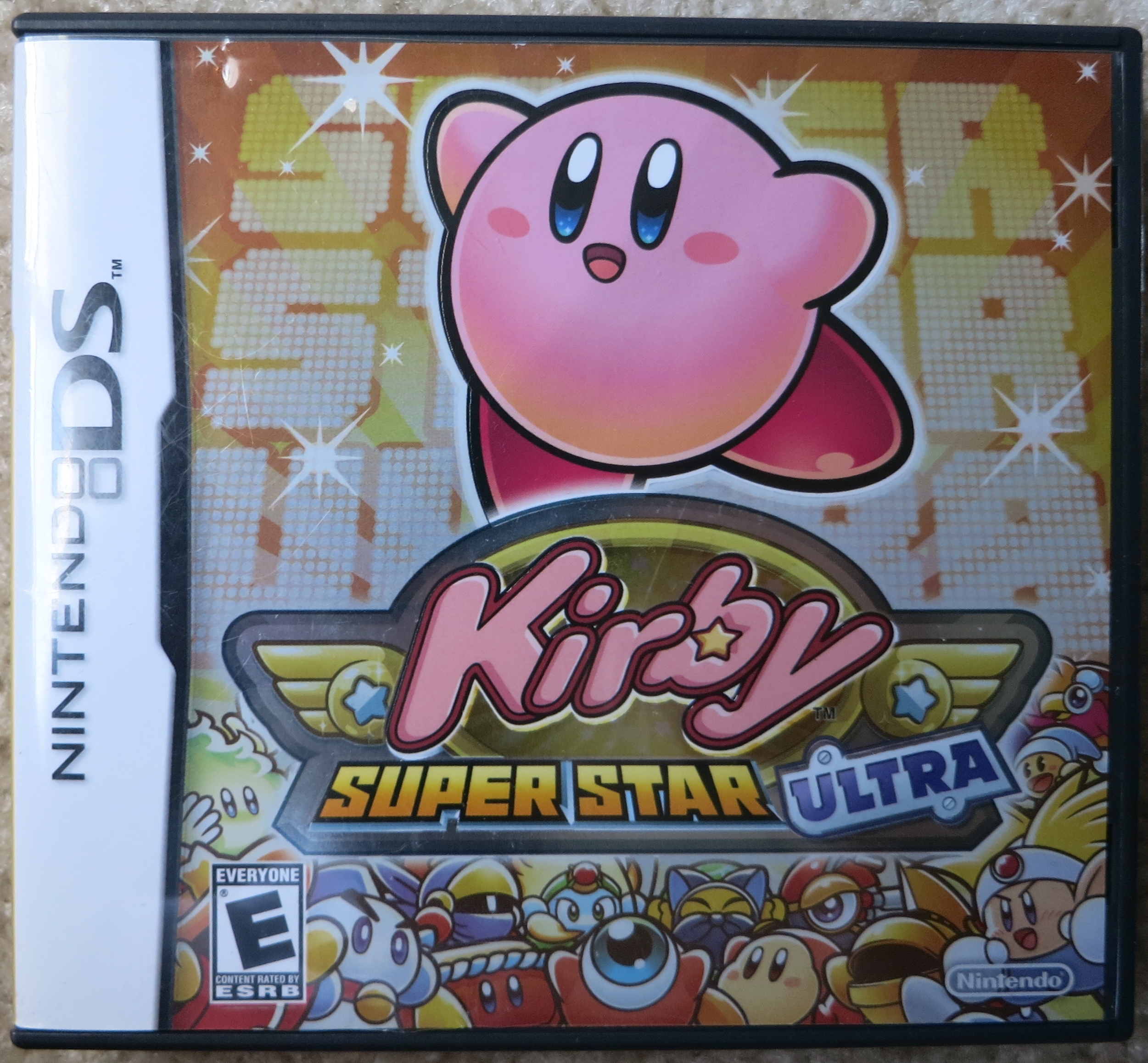 Kirby Super Star Ultra
DS
Release Date: September 22nd, 2008
Purchased at: eBay (Online – $14)
I recall renting the original Kirby Super Star for the SNES back in the 90s and having a blast with all the mingames available. I remember thinking as a kid that the game was unlike anything else because of what it all had to offer. I'm sure this DS enhanced remake will hold up well enough, but my standards are set a bit higher, especially since Kirby Mass Attack's amazing minigames. Fun thing about buying used, the person that had this game last has already unlocked every game from the story mode! Yay for saving time.
Populous DS
DS
Release Date: November 10th, 2008
Purchased at: eBay (Online – $6)
The original Populous released on the PC way back when. It was created by Peter Molyneux, who would go on to be one of the more prolific video game designers of the day, as well as creating the Fable series of role playing games. Populous is also regarded as the first "God Game", where you as the player have complete control over your surroundings and inhabitants. The only other "God Game" I enjoyed was Black & White 2, which, coincidentally, is also made by Peter Molyneux. Small world!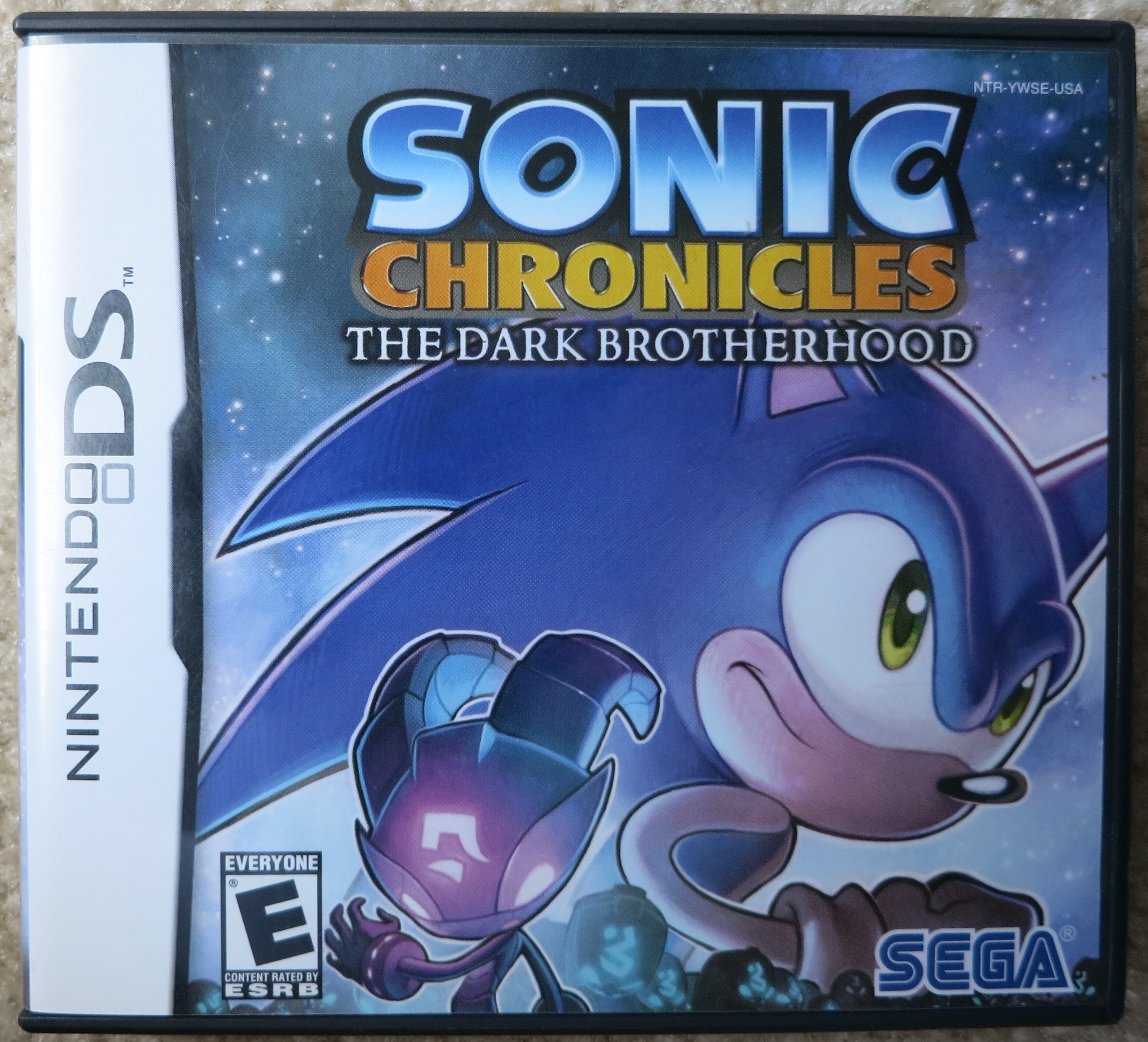 Sonic Chronicles: The Dark Brotherhood
DS
Release Date: September 30th, 2008
Purchased at: eBay (Online – $7)
The Sonic the Hedgehog meets BioWare RPG no one asked for but we all wanted after it was announced. A turn based game with an entirely new storyline, Sonic Chronicles didn't seem to resonate with reviewers as well as BioWare or Sega would have liked, so we haven't seen or heard anything else from the spinoff series since. Personally I'm sure I'll enjoy the game because it's a freakin' Sonic RPG, but beyond that, I have to tip my hat to any established franchise that decides to try something new! As a fan of the root series and the RPG genre, it's a win-win in my book!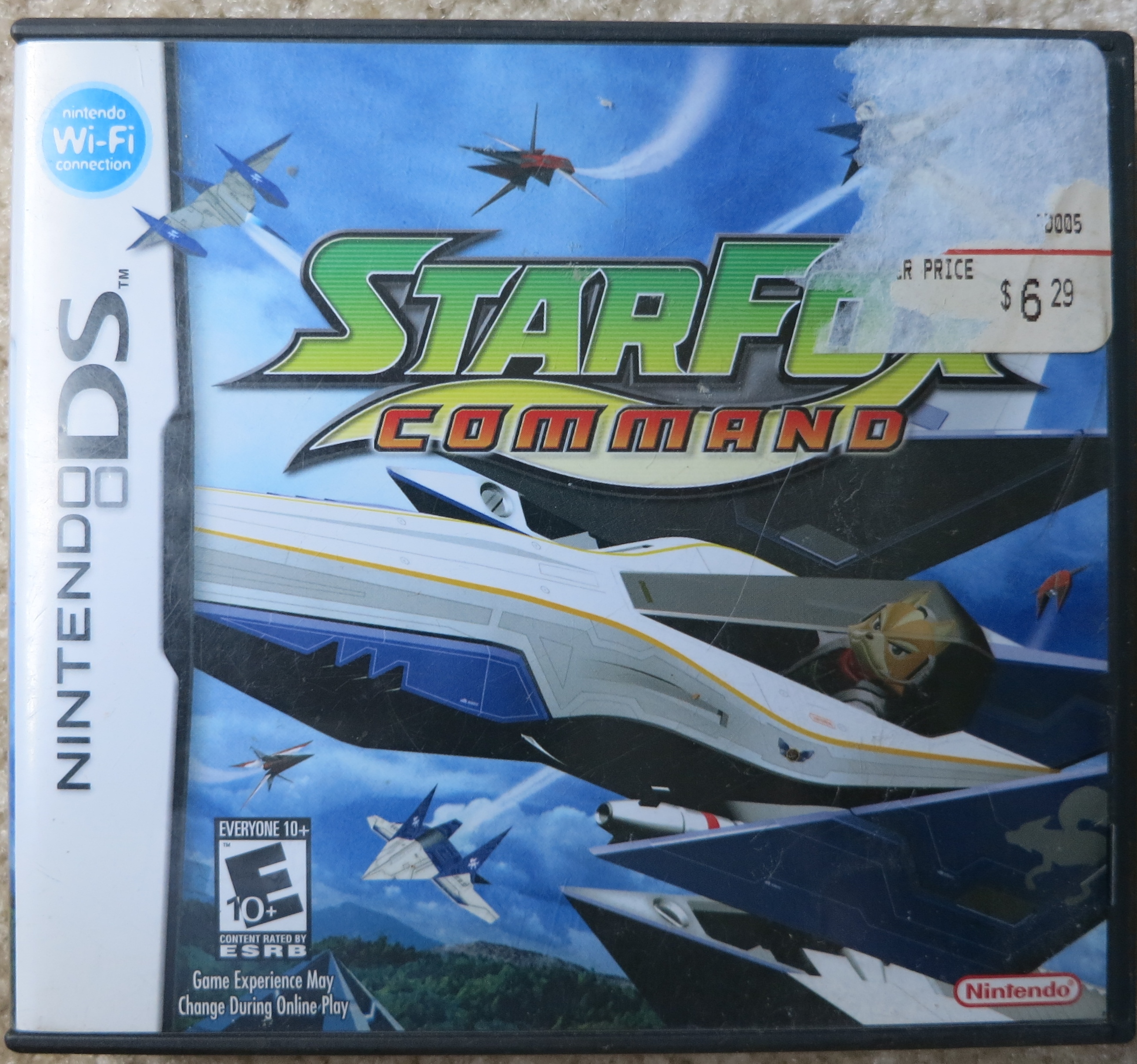 Star Fox Command
DS
Release Date: August 28th, 2006
Purchased at: eBay (Online – $5)
A total steal for just five bucks! I think because the seller didn't list any actual pictures, and only posted in the auctions description that the game was complete kept a lot of potential buyers away. Well it sucks to be them, because I swooped in and grabbed this sucker right away! I got to spend a small amount of time testing the game, and the gameplay isn't what I was expecting. You use the stylus to move and aim your Arwing, and tap the L or R button (or the circle pad, I believe) to shoot. I did want some more Star Fox 64 type action, but something new and different might be fun. Plus, and can always hold out that the new Star Fox game for Wii U might be more inline with what I expected.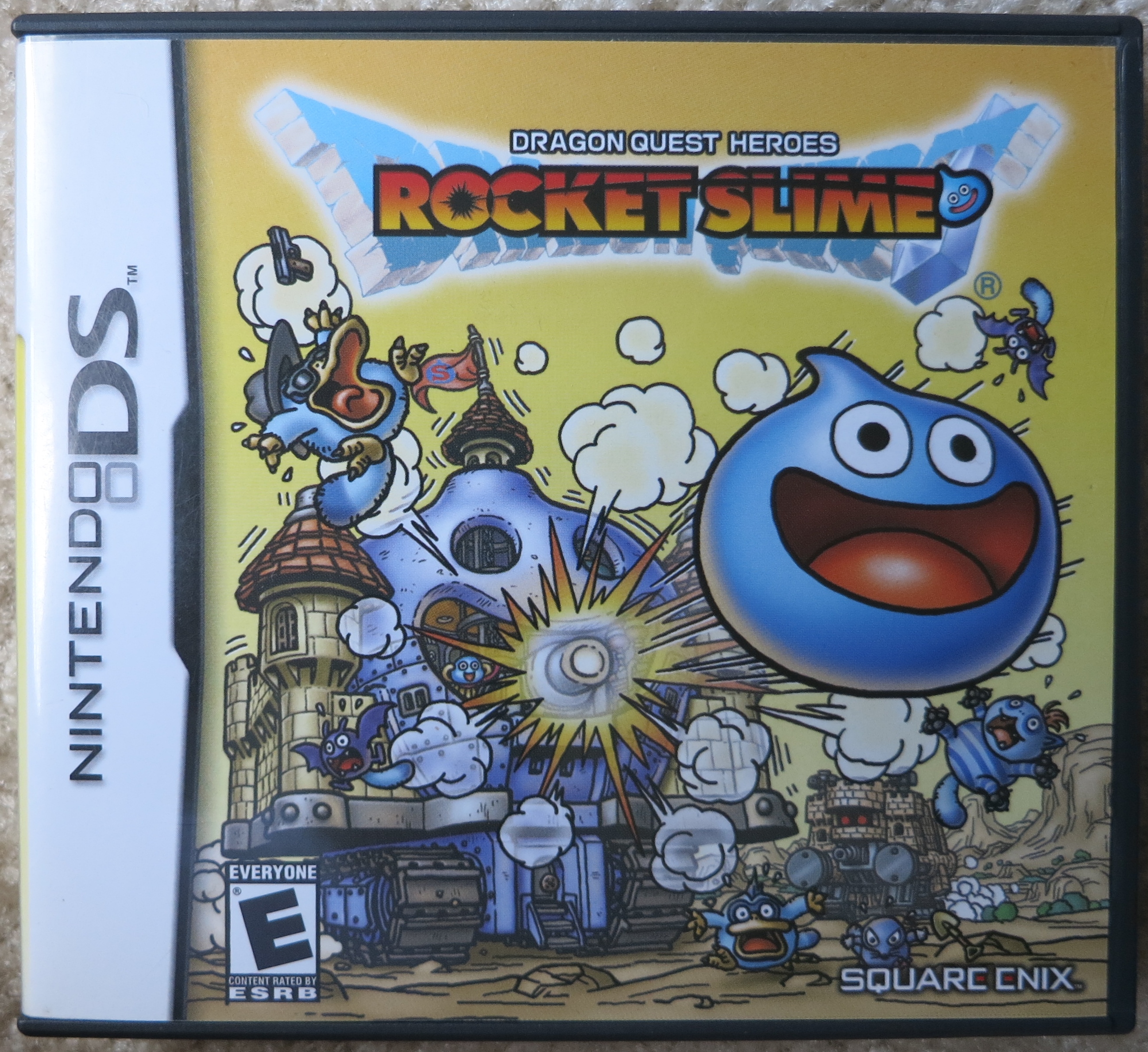 Dragon Quest Heroes: Rocket Slime
DS
Release Date: September 19th, 2006
Purchased at: eBay (Online – $16)
Of all the games added this week, Rocket Slime is the one I'm most excited to have in my collection! It's also the game that looked the most interesting while I was testing the cart! The music was very familiar, and the game really plays off the fact that Slimes are bouncy and whatnot. This one is a serious contender for what I play next on the DS, although Fantasy Life is right around the corner, so I need to get on that ASAP!
Carnival Games: Wild West 3D
3DS
Release Date: November 22nd, 2011
Purchased at: Target (Sunnyvale, CA – $1)
Yeaaah, I wouldn't have bought this game if it was on sale for just a dollar, brand new! Really, dollar games should be bought by anyone, especially if they're complete, and for damn sure if they sealed! Even if it's Carnival Games on the 3DS. That being said, I did actually consider buying this game when it went down to just $5, but man, am I glad I held out! Haha.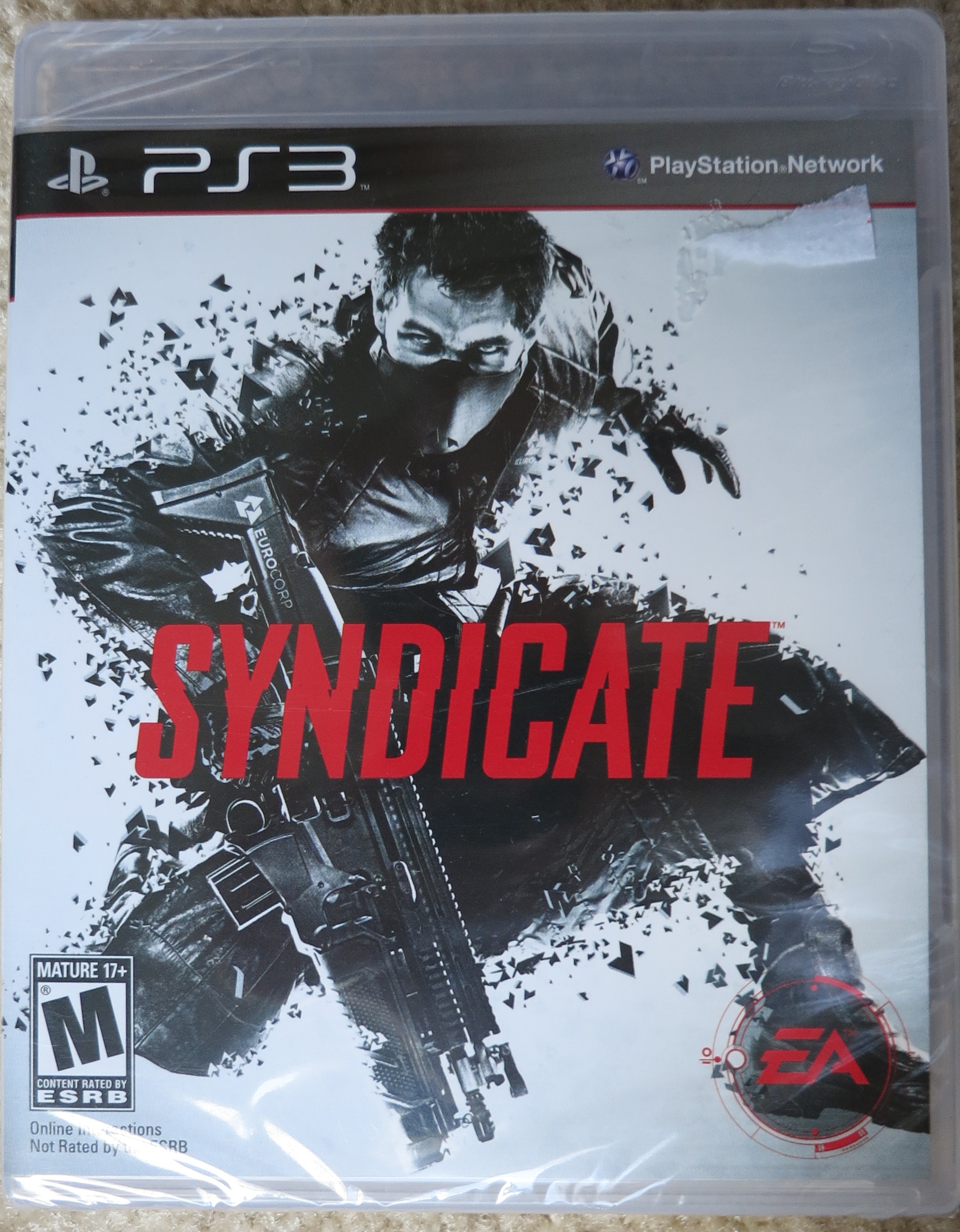 Syndicate
PS3
Release Date: February 21st, 2012
Purchased at: Target (Sunnyvale, CA – $5)
I don't really buy too many PS3 games these days, but when they're high profile shooters for five dollars AND they're sealed, I'm gonna buy. Syndicate is a re-imagining of an earlier PC strategy game that many older gamers seem to have really enjoyed. I recall this new game getting some major press when it first came out back in 2012, but I don't remember if it was well received or just another one of those average titles that could have been so much more. Seeing as this game isn't something I'm interested in playing, it'll likely stay in that packaging for the rest of its life. Sorry, Syndicate, it's just better this way.
Laters,
Jsick