Good lord, when stores have sales I tend to go crazy! This time around, Space Cat, a local used game store, moved locations to a bigger yet somehow more cramped space, and to commemorate the transition offered 50% off their used games under $9.99! I'm sure you can tell I picked up a lot of titles. What was doubly great about this deal however was the fact that a lot of games I previously passed on during my past visits to the store were still there, and now they're even cheaper! Those account for a lot of the pickups this week. There was also a random visit to a board game selling couple on Craigslist that lead to a new Wii Fit as well as a very successful trip to Mountain View's GameStop! And any week I can scrounge up a Sega Saturn game is a good week, so throw that onto the pile for this post as well!
---
SSX: On Tour
PlayStation 2
Release Date: October 11th, 2005
Purchased at: Space Cat (San Jose, CA – $3)
After picking up SSX 3 a few weeks back at Goodwill, I kind of figured I should look for the other games on the PS2. With SSX: On Tour now in the collection I believe I'm only holding out for SSX Tricky. Oddly, Tricky is the only game in the series I've played. I'm sure they're not all that different from one another, but one similarity worth pointing out that I often overlook is that each game has been met with pretty great reviews from critics. Even the newest game on Xbox 360/PS3 simply titled SSX received positive reviews!
Spider-Man: Friend or Foe
PlayStation 2
Release Date: October 2nd, 2007
Purchased at: Space Cat (San Jose, CA – $4)
Spider-Man is my favorite hero after all. In Spider-Man: Friend or Foe the web-head gets to team up with some popular villains, notably all of the big bads from the three previous Spider-Man movies (The ones with Tobey Maguire, not the new Amazing Spider-Man series with Andrew Garfield): Green Goblin, Doctor Octopus, Sandman, and Venom. They add others, including some actual allies like Black Cat, who can all team up with Spider-Man to stop the evil Mysterio. As far as Spider-Man games go, this one is supposed to be ok, but I was really on board for the price and for the co-op potential.
Eve of Extinction
PlayStation 2
Release Date: February 26th, 2002
Purchased at: Space Cat (San Jose, CA – $4)
Eve of Extinction is a 3D beat'em up game focusing on weapon based combat. It's an earlier PS2 title, and one that I really would have no interest in if it wasn't for the cheap'ish price. I kind of figured at $8 it was pricey, but with the nice 50% off sale I would take a chance. It looks engaging enough (how badly can you really mess up that genre?), and chances are I likely won't be seeing it again. And poor Eidos, they were so prominent in the late 90s/early 2000s, but you don't really see them anymore. Likely because they were bought by Square Enix, but hey, there are worse companies to be a part of!
Endgame
PlayStation 2
Release Date: June 4th, 2002
Purchased at: Space Cat (San Jose, CA – $4)
The box has remnants of when GameStop was atrocious at placing stickers on their cases (which can still be argued to this day, but at least they're better) so I'll likely have to replace it. That being said, Endgame belongs to a sub-genre of game collecting: GunCon games! That's right, you can hook up Namco's gun peripheral to the PS2 and shoot at your screen to kill poorly rendered enemies in 3D! In case the box art didn't tell you right off the bat, the game has fallen into obscurity since release, due largely to crummy gameplay. I'm still a big Light Gun fan, so I had to have this one (again, on the "pricier" side of this sale).
Cy Girls
PlayStation 2
Release Date: March 23rd, 2004
Purchased at: Space Cat (San Jose, CA – $5)
This one is the most interesting pick from Space Cat. Based on a series of toys in Japan, Cy Girls is a 2-disc PS2 game, with each disc representing a different agent/Cy-Girl to play. One is an assassin focusing on stealth killing, while the other is a gun-toting agent with lots of fire power. I had never seen this game before, so I had to do some on-the-spot research to see if it was worth it and what it was all about. It's hard to persuade me to not buy a game I'm on the fence with when it's just $5, but you know, money gets tight sometime. Oh, and the girl on the left (I believe her name is Ice) has a very oddly shaped body, specifically the boob placement…
Ape Escape: Academy
PSP
Release Date: January 17th, 2006
Purchased at: Space Cat (San Jose, CA – $4)
The Ape Escape series has kind of gone away as of late, but during the PS1/PS2 era the monkey were everywhere! I originally thought, up until 2 or 3 years ago, that Ape Escape: Academy on PSP was a PSP-exclusive Ape Escape adventure akin to the original platforming outings. But after looking into the game I discovered it's actually a collection of mini-games. Wikipedia believes the poor sales of this game in particular caused the series to fall out of the limelight in North America, as other games in the franchise have been released subsequently, but haven't seen stateside releases.
Dance Dance Revolution Ultramix
Xbox
Release Date: November 19th, 2003
Purchased at: Space Cat (San Jose, CA – $1)
In high school, DDR was a way of life. A group of friends and I would frequently play, either in the arcade or at home, with DDR Max and DDR Max 2 being our go-to games. One of our friends had an Xbox (yes, just one of us had an Xbox, and it wasn't me, if you can believe it), and he graced us with Dance Dance Revolution Ultramix. It was largely the same as the PS2 titles, but of course featured different songs. We didn't play it often because it was tough to get to his place and the Xbox weighed 500 pounds, but I do remember this game being the only version of the game at the time which included the song "Colors (For Extreme)" which was amazing!
Dance Dance Revolution Ultramix 2
Xbox
Release Date: November 18th, 2004
Purchased at: Space Cat (San Jose, CA – $3)
I can also recall the official dance pads being kind of crappy compared to the PS2 ones. They didn't respond as well, they were kind of slippery, and they had the ugly Xbox color theme (black and green, and for some reason I remember bright orange being on there). Our friend never had Ultramix 2 (as far as I know), but seeing as it's another Xbox exclusive I had to pick it up. I knew this game was out there, as well as an Ultramix 3, which sadly Space Cat didn't have, but I didn't know until writing this article that there exists an Ultramix 4! With the Xbox I just never cared, and didn't even bother following franchises I enjoyed, DDR included! Oh well, the hunt continues now at least.
Scorcher
Saturn
Release Date: March 1st, 1997
Purchased at: Space Cat (San Jose, CA – $3)
Gosh, Saturn games are so hard to come by even just finding a less than stellar racing game complete makes me excited! Scorcher is a Saturn-exclusive racing game set in the year 2021. Judging from the back of the box and cover art, the developers thought 2021 was going to be a shit show, because everything is beat up, destroyed, and really dark. I mean, 2021 is only six years away. I really hope this isn't what the future holds. Not so much because we'd be living is a dystopia, but because our future would have been predicted by Scorcher. There are better post-apocalyptic games out there I'd like my unfortunate future self to be subjected too.
Pirates: The Legend of Black Kat
PlayStation 2
Release Date: February 17th, 2002
Purchased at: Space Cat (San Jose, CA – $1)
Old EA! Pirates: The Legend of Black Kat has the makings of a great game: the premise is simple yet engaging (you're a female-pirate seeking revenge), the game was developed by renowned studio Westwood who were popular for the Command & Conquer series, and it had the publishing power of Electronic Arts (although not the powerhosue it is today). So why have I not heard of this one before? Likely because it's now super old, features mediocre combat and dated visuals, and has upgradeable ships and naval combat. Wait, what was the downside?
Pirates: Legend of the Black Buccaneer
PlayStation 2
Release Date: August 14th, 2006
Purchased at: Space Cat (San Jose, CA – $3)
I guess by the time the sequel came around, EA and Westwood Studios had moved on to bigger, better things, because neither of them are attached to this sequel. Information about the game is scarce online, but judging by an IGN review, this game isn't as well received. I find it interesting though, that sequels coming out for any system that tend to be largely the same idea are panned by critics. I think it's likely the masses getting used to what the system can handle, and then being able to determine a game isn't as high quality thereof. We all kind of have "new console goggles" on the first year, possibly even two years. So after that we've caught on to how developers can maximize a system, and then games like Pirates: Legend of the Black Buccaneer fall to the bottom.
Mojo!
PlayStation 2
Release Date: August 26th, 2003
Purchased at: Space Cat (San Jose, CA – $1)
Mojo! is a game where you control a small round object, guiding it through perilous floating platforms on the way to a goal. If this sounds familiar, it's because it's incredibly similar to Sega's Super Monkey Ball franchise, which released two years prior for the Gamecube. I always thought Mojo! was a rhythm game akin to Harmonix's own Frequency/Amplitude series', mainly because it looked like the game was played on colored tracks as seen on the cover. I also always thought Mojo! was a PS2 launch game, but seeing as the console originally released in 2000, I was way off.
Scaler
PlayStation 2
Release Date: October 1st, 2004
Purchased at: Space Cat (San Jose, CA – $2)
When I was checking out Space Cat a few months back I noticed Scaler and really debated buying it. I leaned against the idea because the game didn't come with the manual, and was in terrible shape. You might be able to tell if you click on the picture that the case is broken, the plastic backing is torn, and there's dirt and crap all over the thing. This will be another game I'll have to find a replacement case for. Protip: If someone is selling stuff at a garage sale cheap and you really just want the case, ask them for it! Even if it's just a plain ol' DVD case, it's better than having rubbish like the clogging up your shelf!
GoDai: Elemental Force
PlayStation 2
Release Date: January 21st, 2002
Purchased at: Space Cat (San Jose, CA – $1)
Another game I thought was a PS2 launch title, GoDai has been around forever it seems. When Hollywood Video and Game Crazy were still a thing, our local store had this game stocked I swear the entire length of it's tenure in Michigan City. Even I was like, "Man, this game is probably not worth it," despite the game being like, $3. But for $1 I'll bite on just about any game. Sadly, the publisher and developer of GoDai, 3DO, would go bankrupt around a year after this games release. I think a steady stream of subpar games lead to their downfall. And yet, I still really want a 3DO console!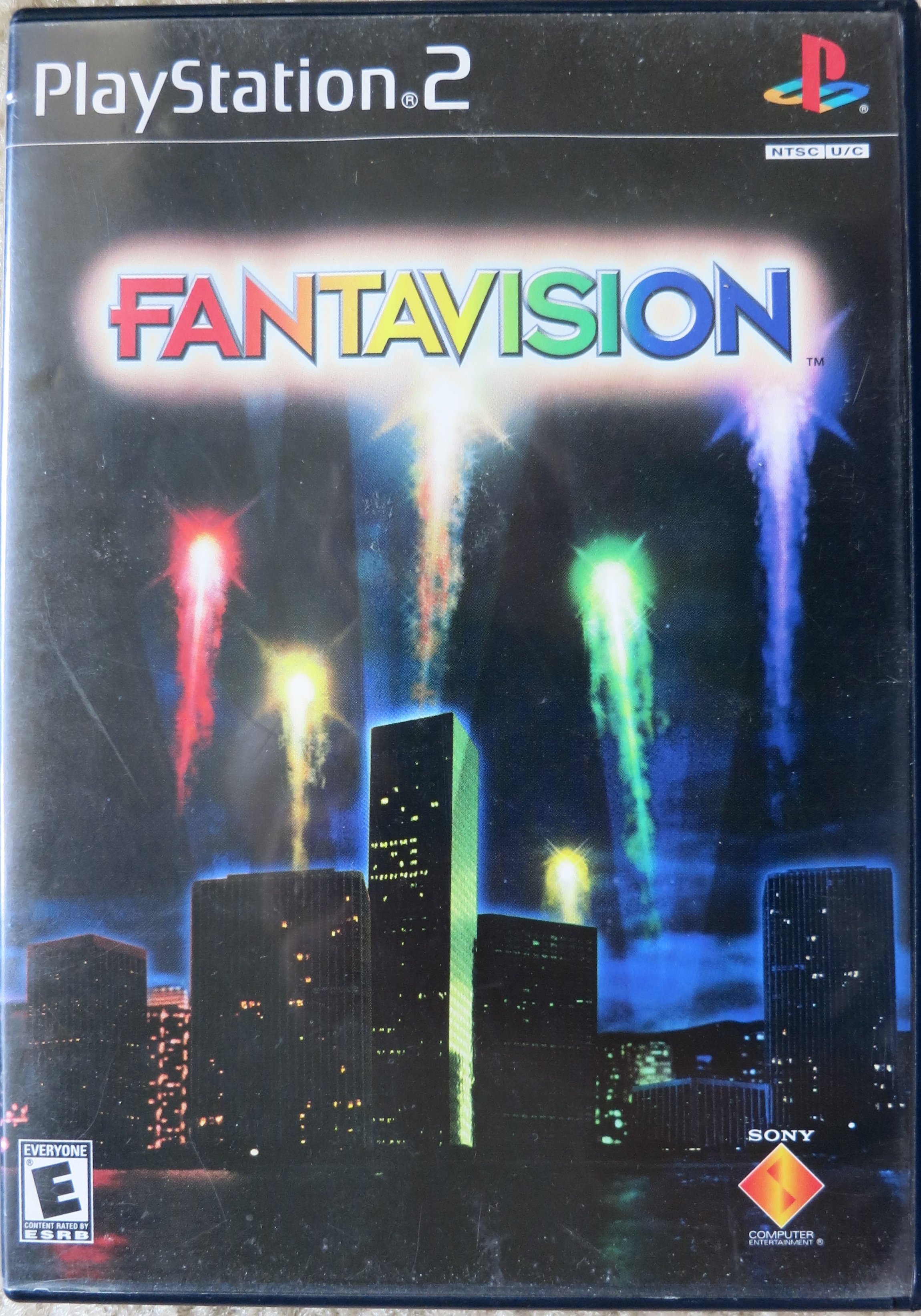 FantaVision
PlayStation 2
Release Date: October 26th, 2000
Purchased at: Space Cat (San Jose, CA – $1)
There's been a theme going on where I think I'm buying PS2 launch games, but they turn out to be released years after the console. But FantaVision at least actually was a launch game! One out of, what, five isn't bad, right? In the game, you explode fireworks and watch how the PS2 is able to render beautiful polygons and lots of colors! This is another game I remember vividly being on the shelf at Game Crazy for a long ass time, and never buying. I guess I'm glad I waited, because now it's in the collection at arguably the cheapest price I'll ever find.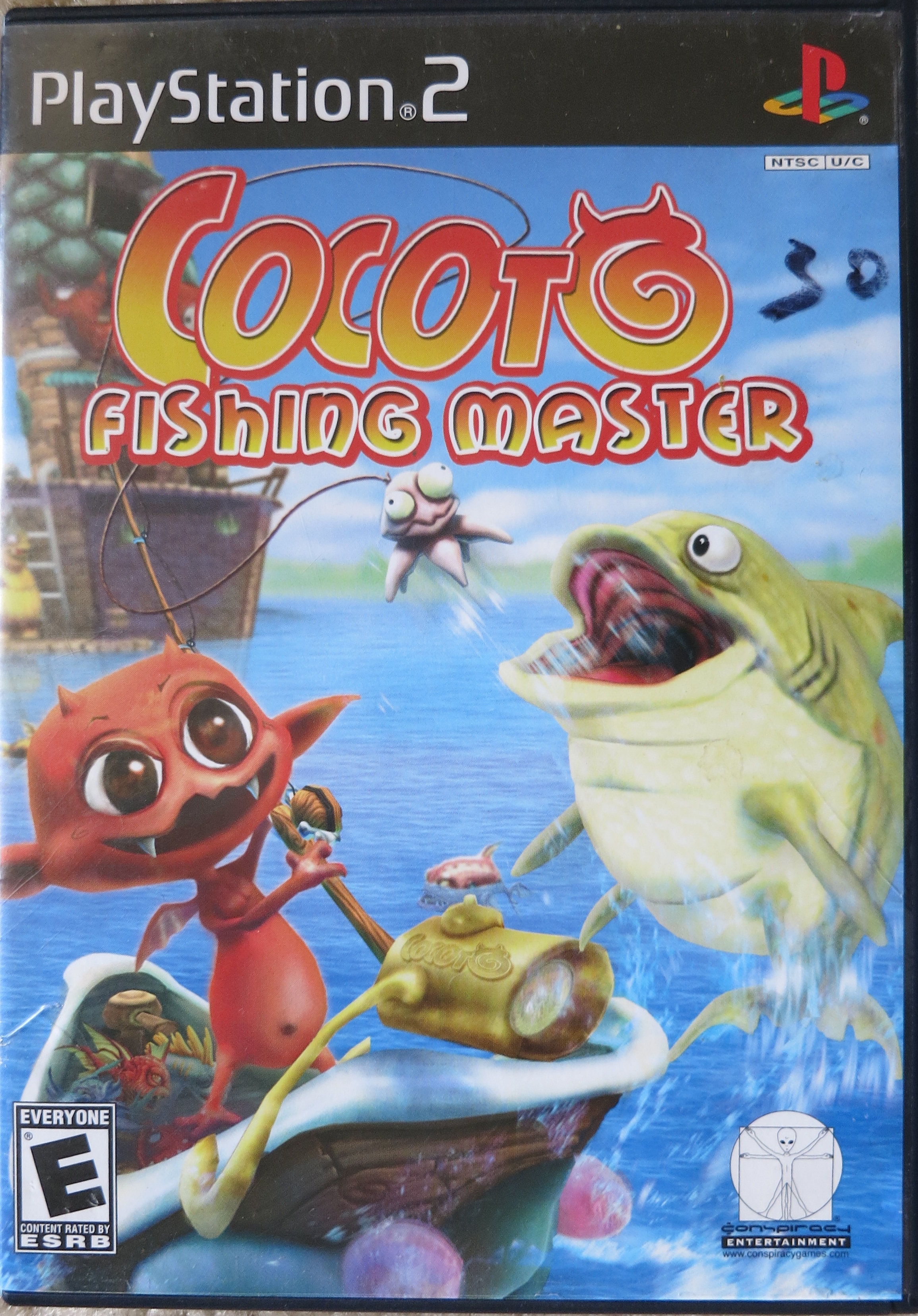 Cocoto: Fishing Master
PlayStation 2
Release Date: December 4th, 2007
Purchased at: Space Cat (San Jose, CA – $1)
The spine of the box is so bland for this game, I might have passed it up if I didn't read it and think to myself, "Cocoto doesn't sound like someone's actual name. I wonder what this is all about." Once I saw the cover I actually recognized the character: he (it?) has an entire range of games on the Wii: Cocoto: Magic Circus, Cocoto: Kart Racer, and even some games released exclusively online and in other regions. Now the tricky part beings: I've seen plenty of the other Cocoto games at GameStop, but now that I actually know of them, will I be able to find them again? My guess? Yes.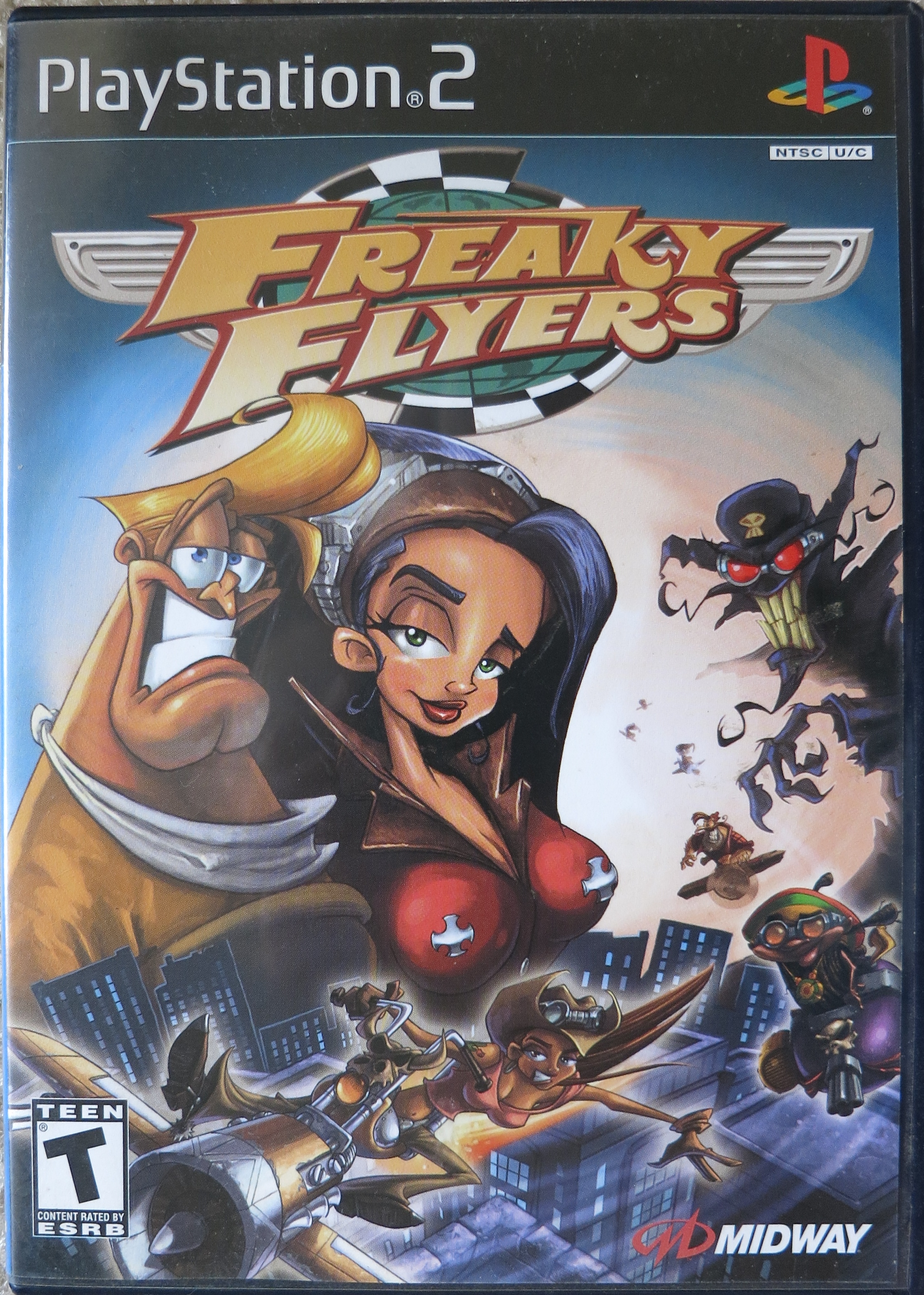 Freaky Flyers
PlayStation 2
Release Date: August 5th, 2003
Purchased at: Space Cat (San Jose, CA – $2)
I don't quite remember how I first heard about Freaky Flyers. I feel like it might have been in an issue of Nintendo Power or something like that, but I remember the game coming out and thinking of Diddy Kong Racing. I'm sure this game is nothing like that, because, well, who has really heard of Freaky Flyers besides me? The game is an air racing game featuring a wacky cast of characters. It's as bland a setup you can get, but I'll happily pay $2 for a bland, complete game.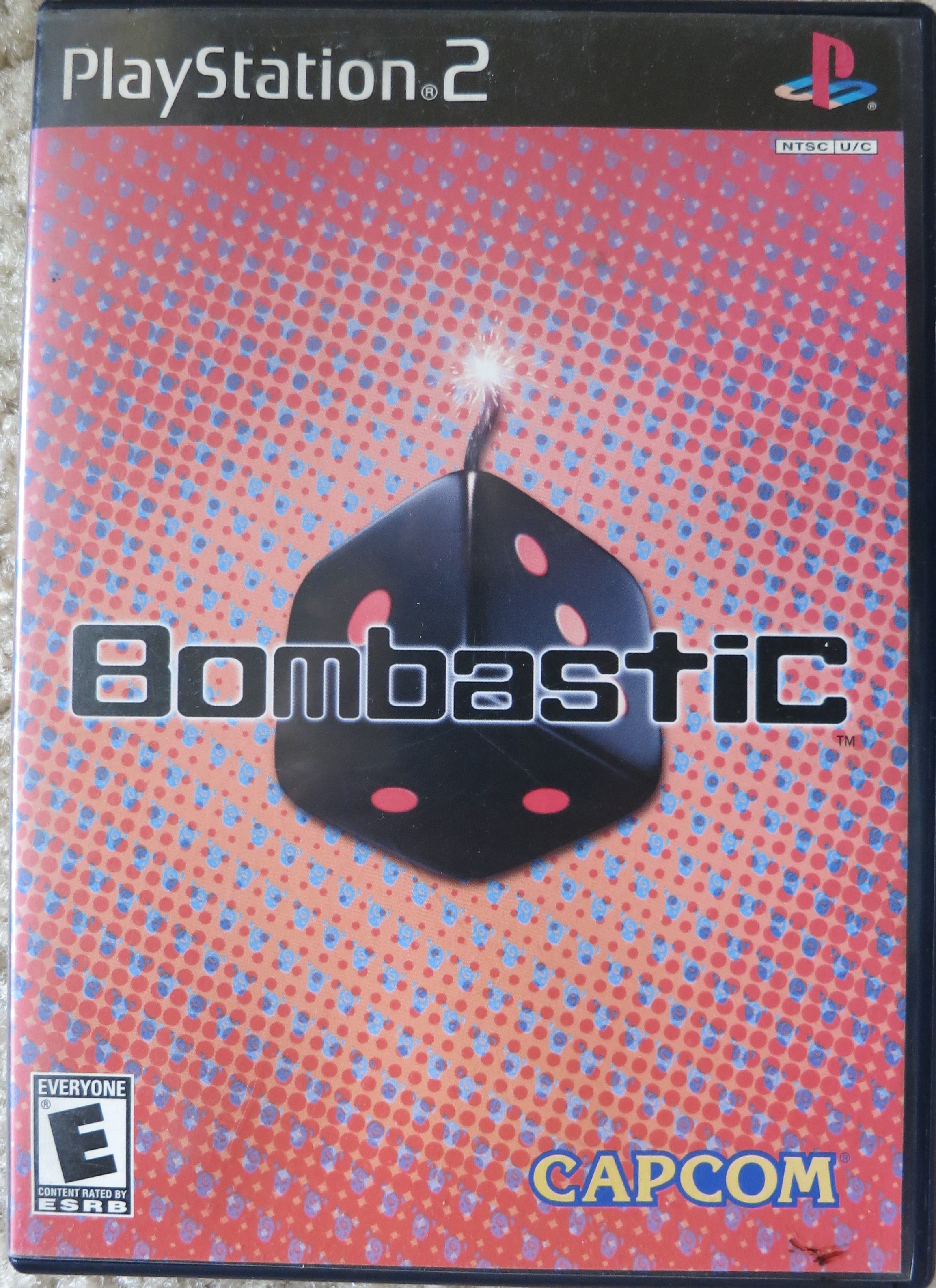 Bombastic
PlayStation 2
Release Date: August 27th, 2003
Purchased at: Space Cat (San Jose, CA – $1)
My friend in high school, who was among the same group of friends who frequently played DDR (and was arguably the best in our group), first introduced me to Bombastic. It was kind of by accident as it were: he was overly excited (especially for him) for the game, and the rest of us were completely baffled why he a) wanted the game, and b) knew what the Hell it even was. I came to find out a decade later it's actually the sequel to the PS1 title Devil Dice, which I happened to scoop up unknowing it was even related to this PS2 sequel! Yay coincidences!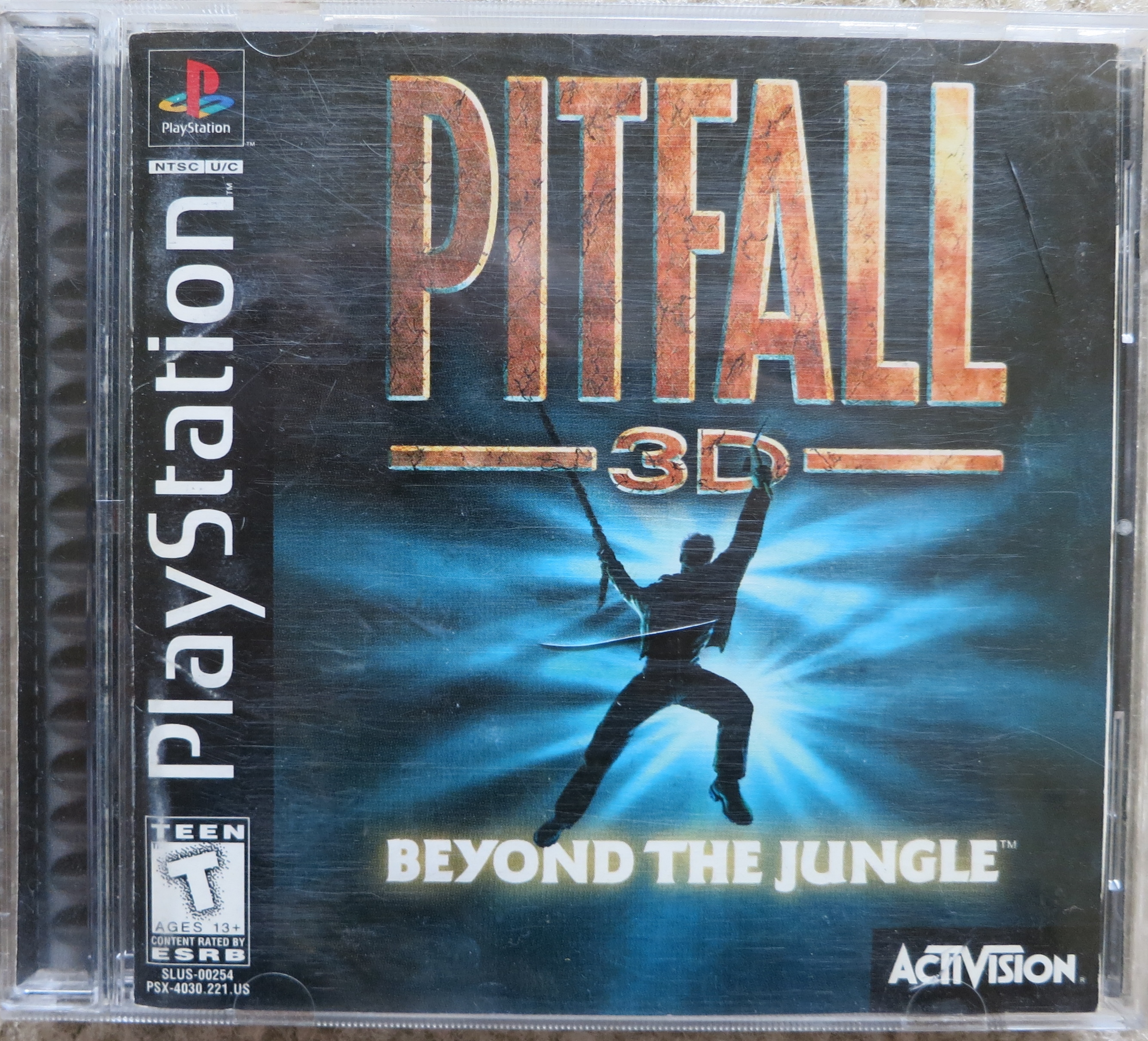 Pitfall 3D: Beyond the Jungle
PlayStation
Release Date: February 28th, 1998
Purchased at: Space Cat (San Jose, CA – $3)
There's only a few games I need to roundup in order to complete the PS1 remake of classic game series. I think I'm still missing revamps of Space Invaders and maybe, like, Break Out or something like that? It's tough when my goal is to collect a series that isn't really a series: I'm never really sure when I'm done, and sadly more and more games keep getting tacked onto the list. Interesting to note about this one, Bruce Campbell voices the main antagonist Harry!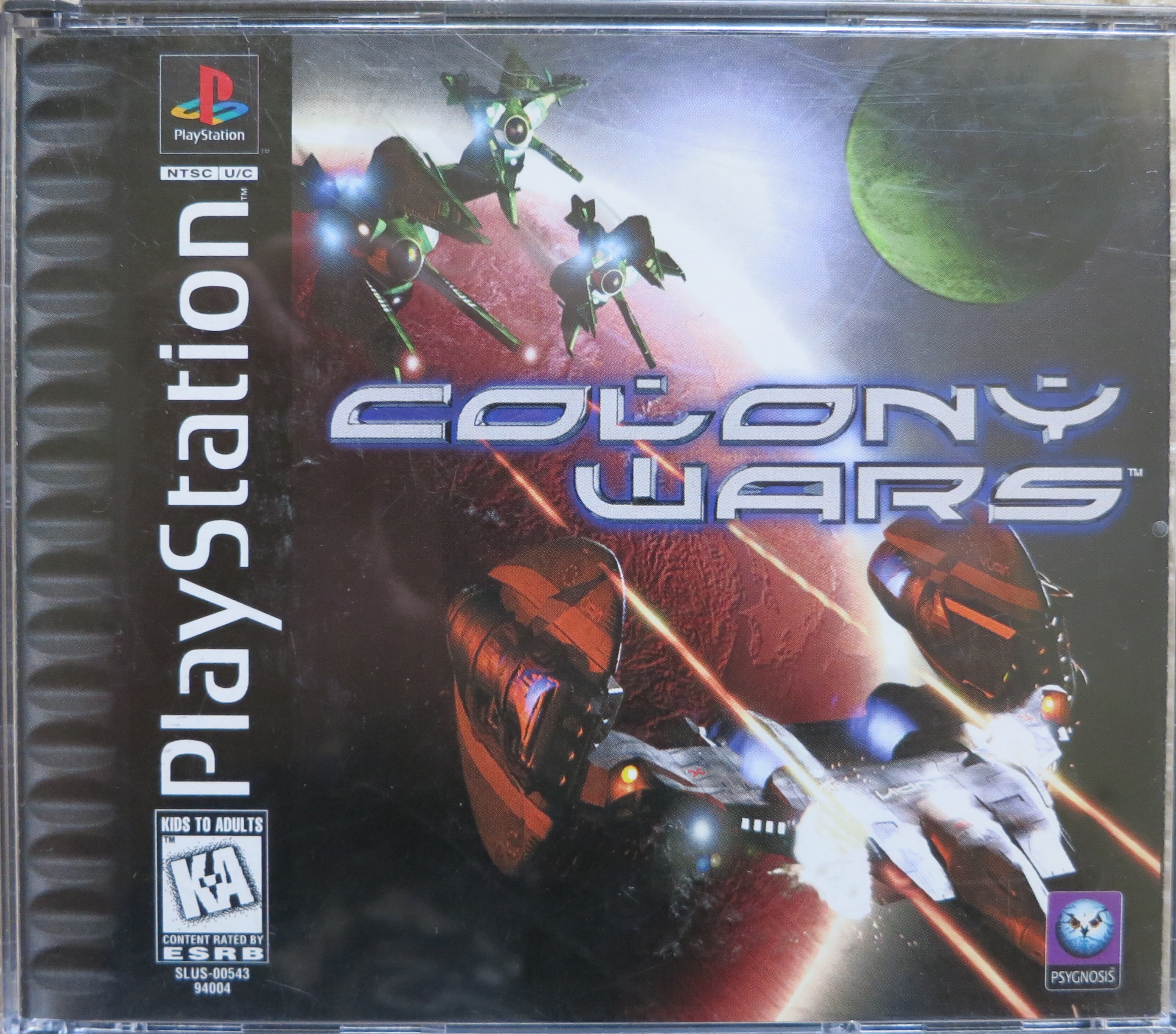 Colony Wars
PlayStation
Release Date: October 31st, 1997
Purchased at: Space Cat (San Jose, CA – $2)
Back in Michigan City, the used game shop Game Changers carried this game and its sequel, Vengeance, and I thought about picking it up because it was a two-disc game. Aside from those being collectible in their own right, it was relatively cheap and by a well-known (at least then) developer, Psygnosis. I'm glad I waited, because this game is much cheaper than that version, and now I can hunt for the other! I also found out through research there's actually a third game in the series called Red Sun, which is one of, if not the, last games released by the company!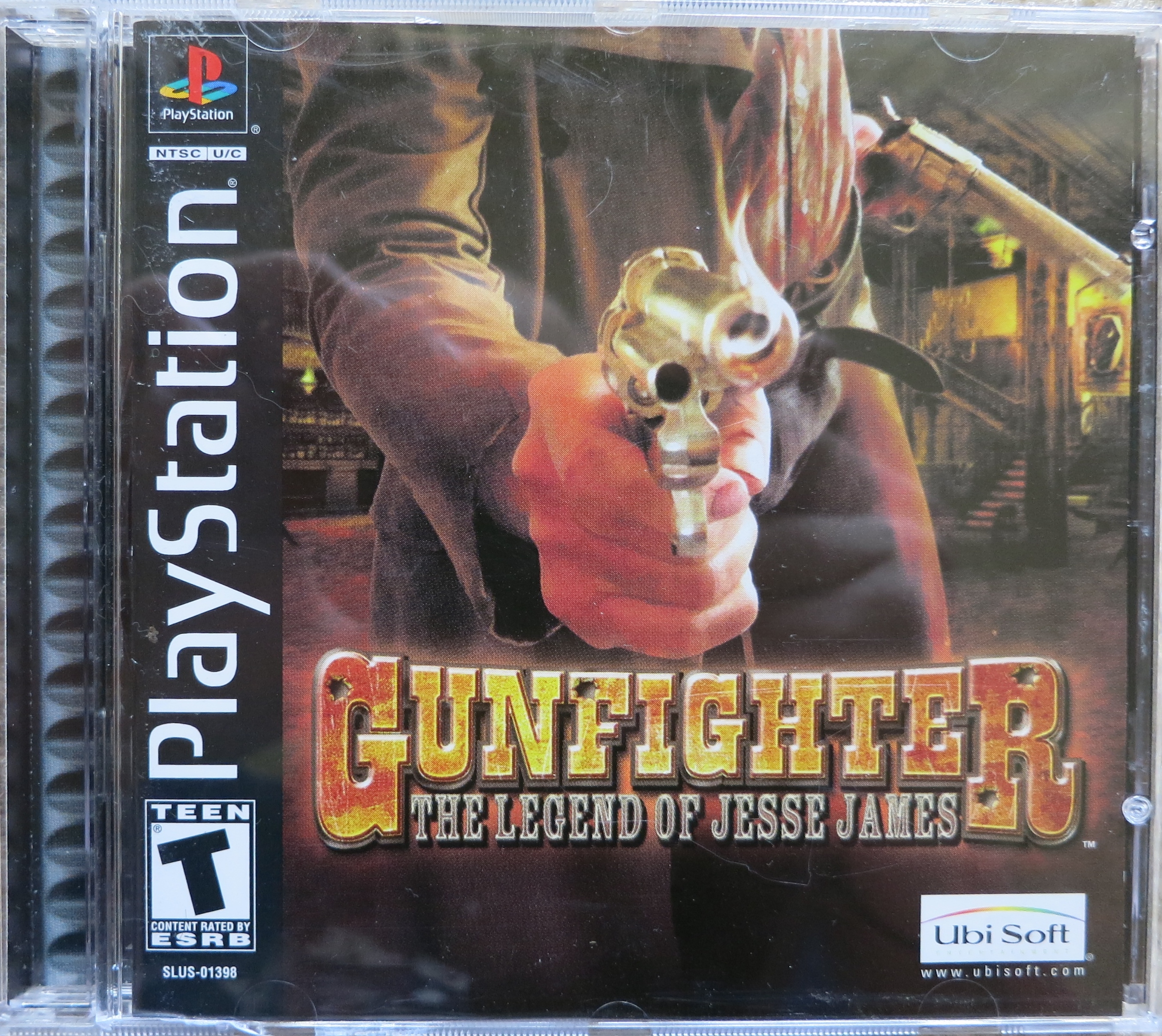 Gunfighter: The Legend of Jesse James
PlayStation
Release Date: November 30th, 2001
Purchased at: Space Cat (San Jose, CA – $4)
Along with Endgame, this one is the other GunCon game grabbed this week. Gunfighter is also one of the games I was very happy to pick up: it's a harder to find game on the PS1, it is in great condition, and it was one of the games I passed on back when I last visited Space Cat! Having a great game to debate whether or not to buy, passing on it, and then finding it later at the exact same place for half the price is a win-win in my book!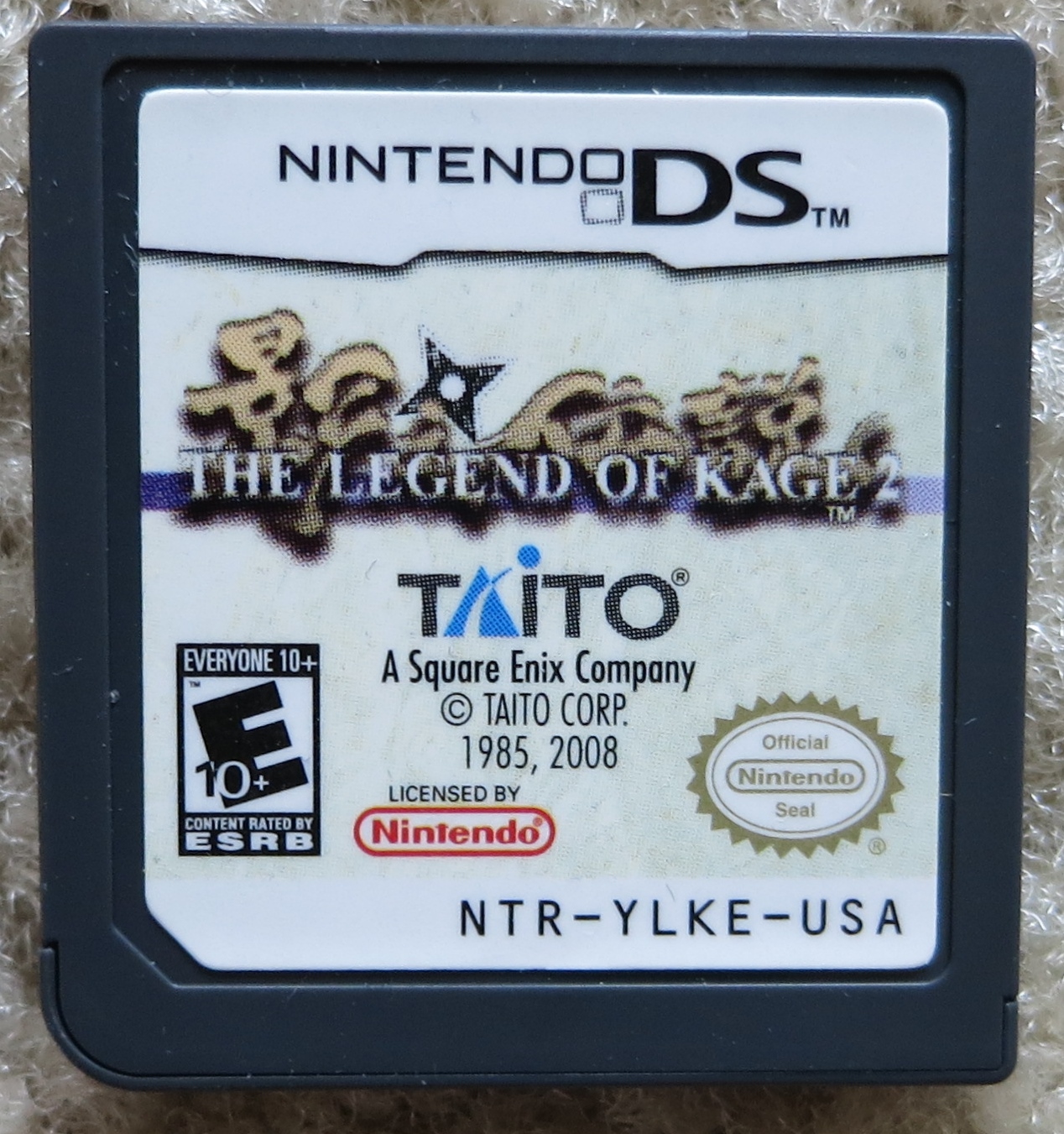 Legend of Kage 2
DS
Release Date: October 8th, 2008
Purchased at: GameStop (Mountain View, CA – $5)
As I mentioned at the beginning of this post a million years ago, I actually went to a few places this week for games, not just Space Cat! Earlier in the week, Laura allowed me to go with her to Mountain View, which is a ways out of the way, specifically to check out their GameStop. I picked up a few titles, including some loose DS games. Legend of Kage 2 is an action/adventure game and sequel to the NES game Legend of Kage. Everything is coming up Eric this week, because that's the name of my DDR playing, Bombastic loving friend. He happened to be tossing (I know, crazy!) some video games way back when, and one of those games happened to be the NES original Legend of Kage! So inadvertently the series is now complete!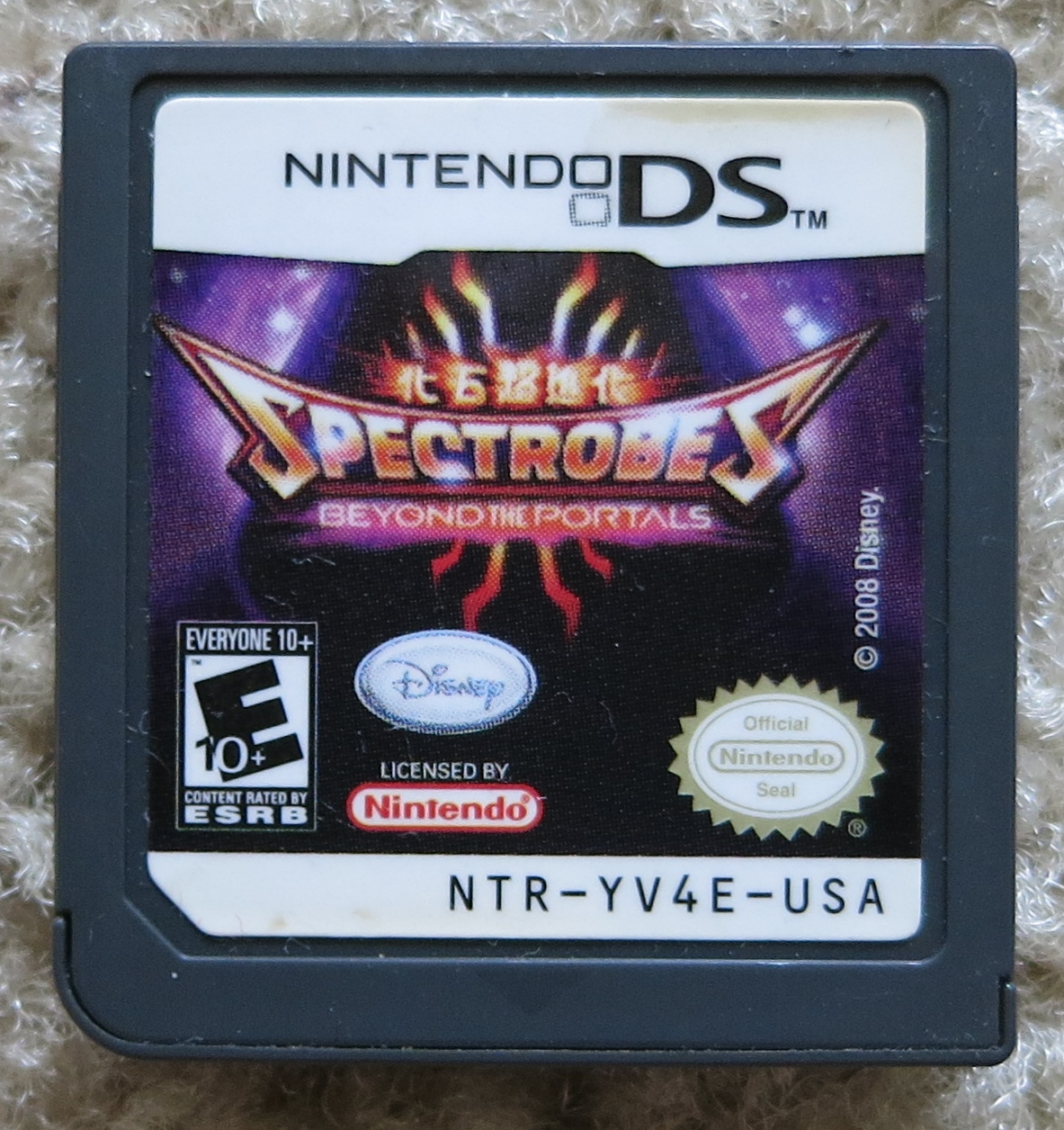 Spectrobes: Beyond the Portals
DS
Release Date: October 7th, 2008
Purchased at: GameStop (Mountain View, CA – $1)
Last time on the Roundup I secured a copy of the Wii game Spectrobes: Origins. I appear to be going in reverse order, because this week I was able to pick up a loose copy of the first DS sequel, Beyond the Portals. Though incomplete, for just a dollar I really can't say no. I'll still be on the lookout for a complete version, but for the time being I can at least claim it as my own.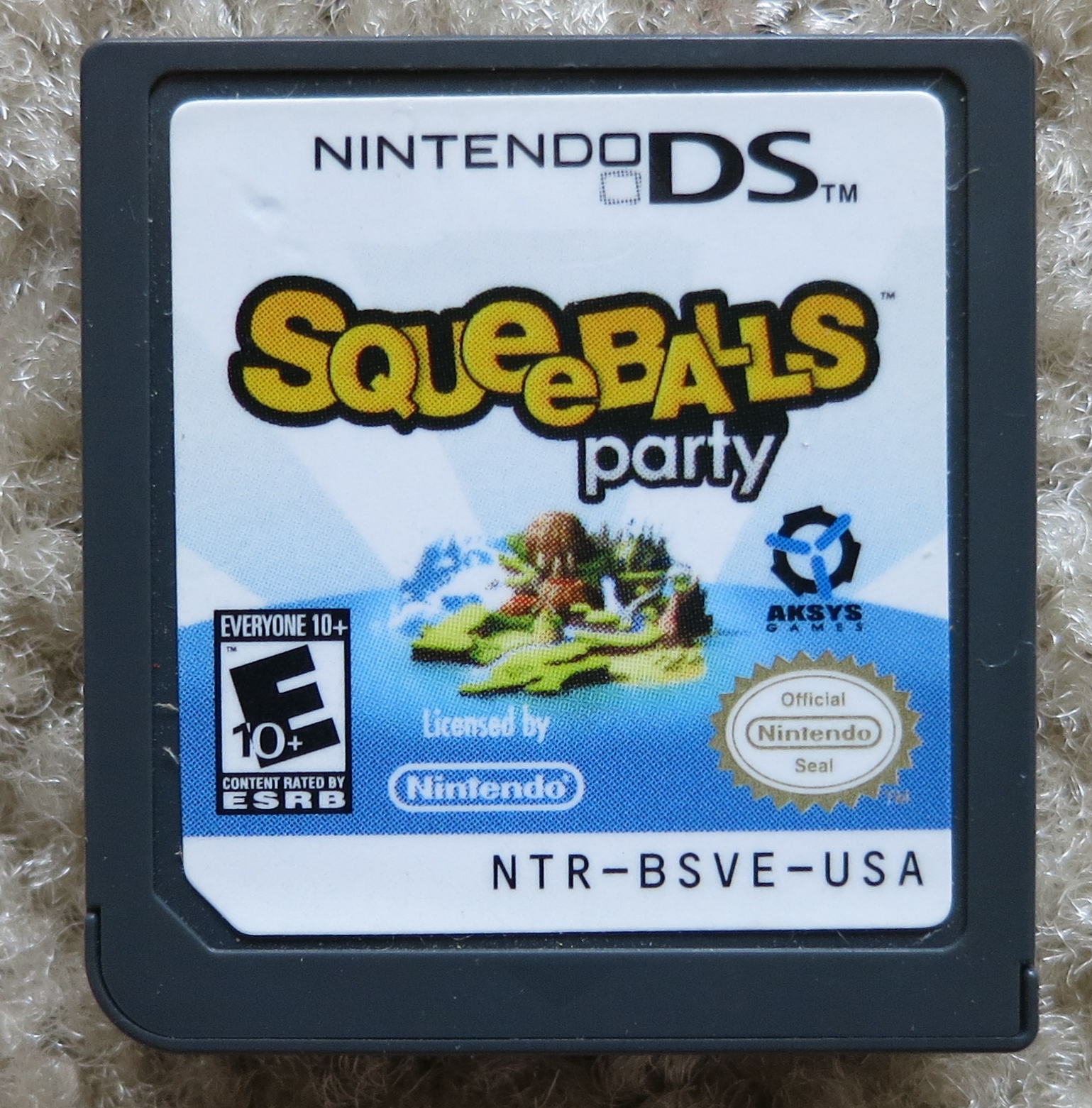 Squeeballs Party
DS
Release Date: October 13th, 2009
Purchased at: GameStop (Mountain View, CA – $3)
Again, I picked up the Wii version of this game, also called Squeeballs Party, a week or two ago, and now I have a loose version of the DS iteration. You can't see it because I don't have the actual box or cover art, but I like how if you compare the Wii game with the DS game, you can visually see the game covers are identical, sans the advertisement of how many minigames are included. This DS version distinctly has half the games, making it all but inferior to the Wii version. Usually a developer would make a separate game altogether, but I guess for this game they just cut half the content.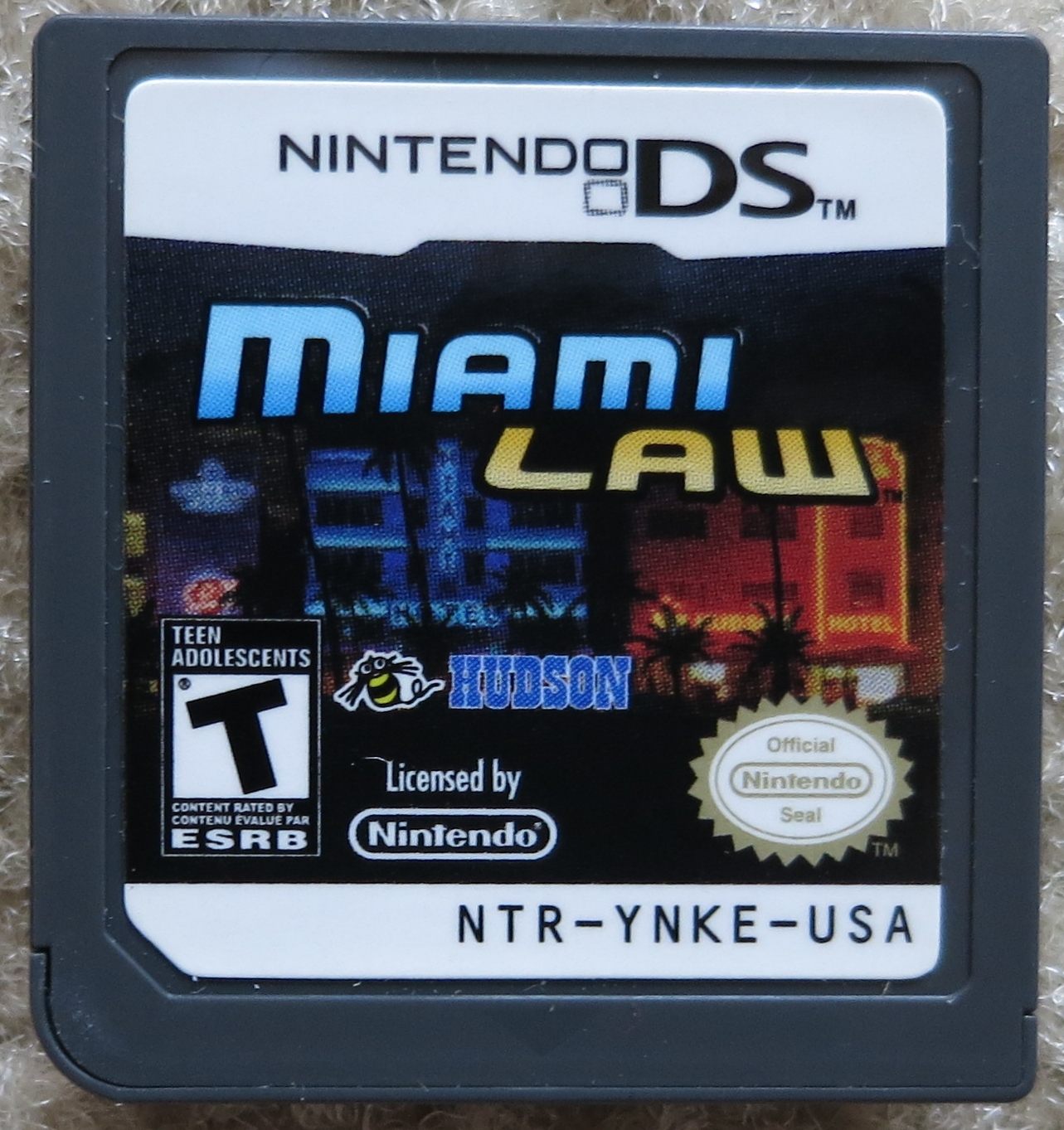 Miami Law
DS
Release Date: June 9th, 2009
Purchased at: GameStop (Mountain View, CA – $3)
While browsing games on Amazon I happened across this game because it was related to something else I looked at or bought. I was intrigued from the beginning, and though I wish I could have found the game complete, I am happy to say I found it at all. It's only been on my radar for a few months now, but I feel like I haven't seen it too often in the wild. Online it sells relatively cheap, so it's not expensive, it's just one of those harder to find games I guess.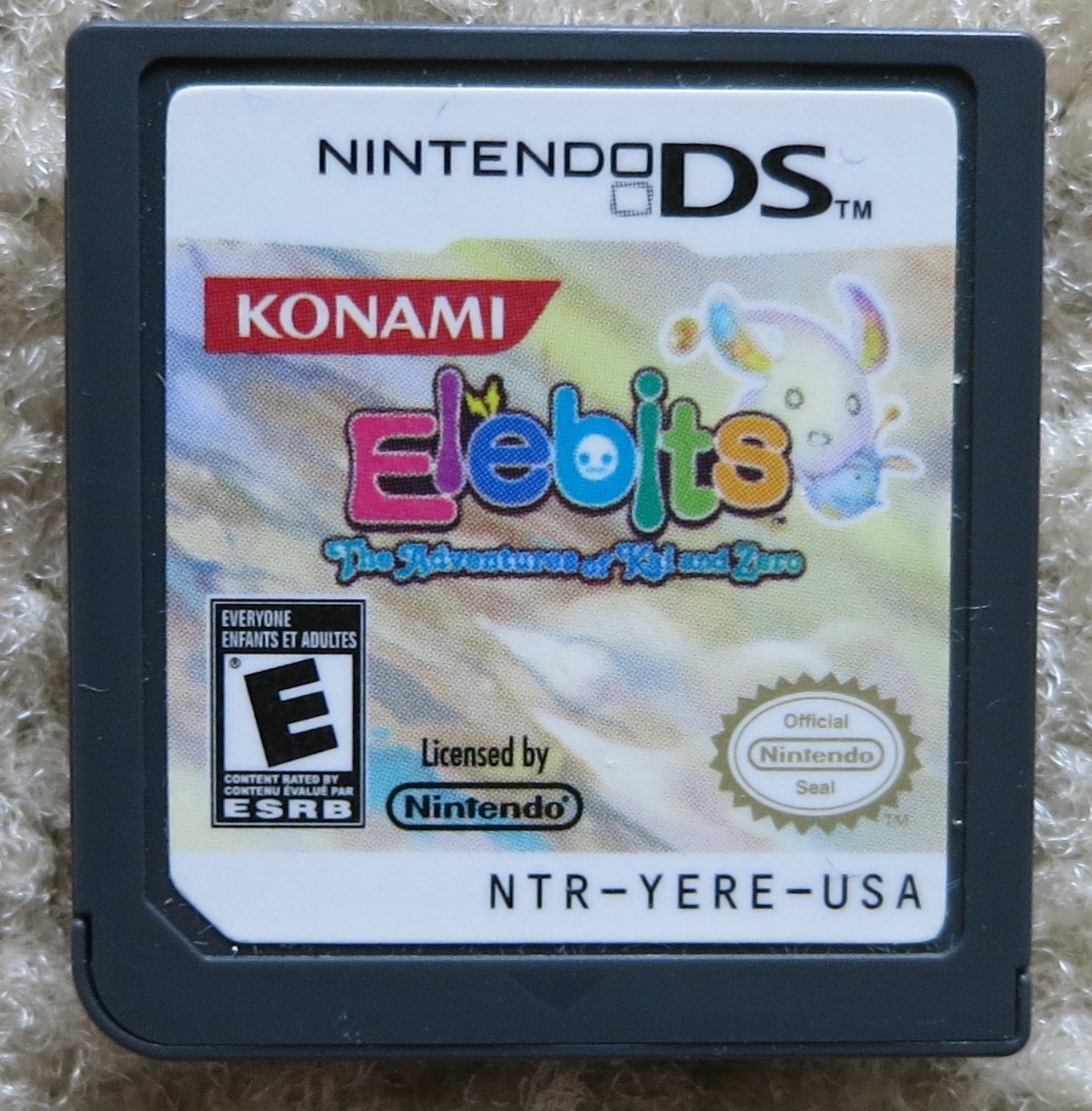 Elebits: The Adventures of Kai and Zero
DS
Release Date: January 6th, 2009
Purchased at: GameStop (Mountain View, CA – $3)
This is astounding, because this game was literally, literally the reason I wanted to go to GameStop. After having lost an eBay auction I thought for sure I was going to win for a copy of the game complete, I decided I needed to check GameStop somewhere and maybe they'd have it. Lo and behold, Mountain View's GameStop had a copy! My heart skipped a beat when I saw it in the humongous rack of used DS games, and for so cheap at that! A sequel to the Wii game released exclusively on the DS, Elebits: The Adventures of Kai and Zero is one I imagine to go up in value in the future because it's a sequel to a Wii game, had limited sales and release, and is niche enough to have a following.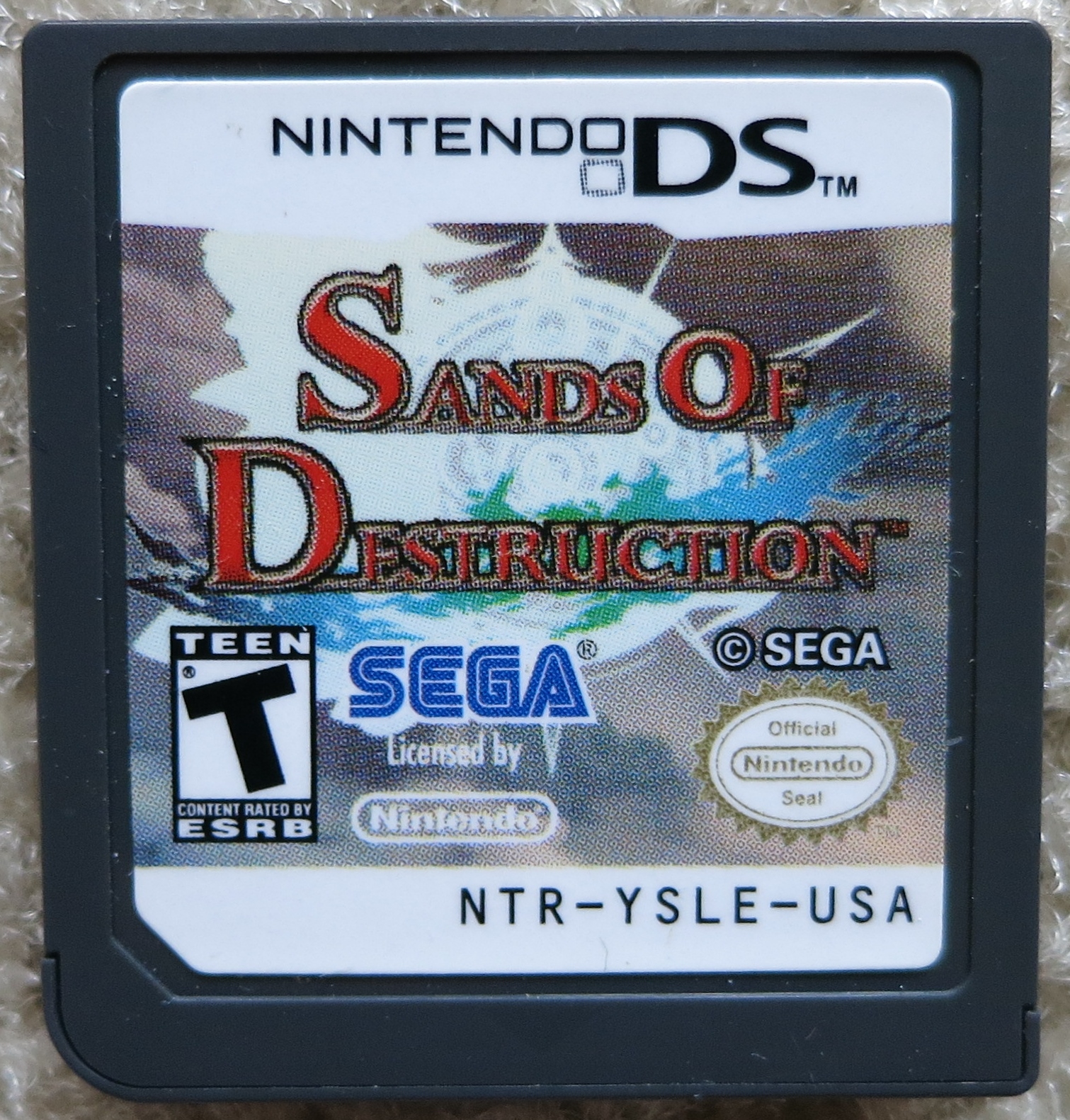 Sands of Destruction
DS
Release Date: January 12th, 2010
Purchased at: GameStop (Mountain View, CA – $5)
Oh man, what a find! Sega's RPG Sands of Destruction sells loose online for well over $10, so this price was an absolute steal! Aside from being an RPG, it also has it's own anime series and following in Japan. The developers also created highly sought after DS RPGs Luminous Arc and Luminous Arc II, which I would love to get my hands on. Who knows, maybe one day I'll find a copy, loose or otherwise, floating around GameStop for hella cheap. That'd be the day…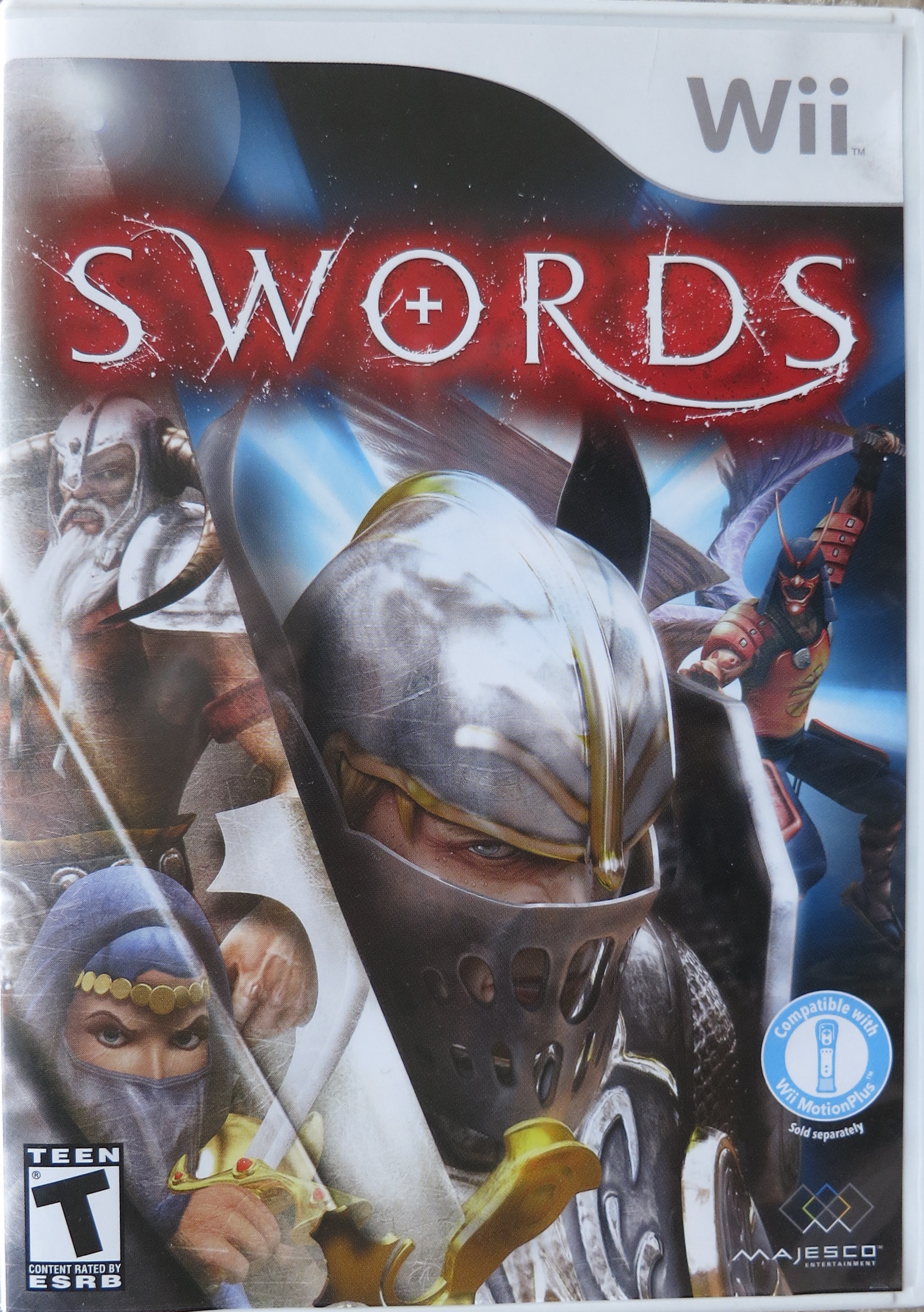 Swords
Wii
Release Date: September 14th, 2010
Purchased at: GameStop (Mountain View, CA – $3)
We have a winner for lamest title for a video game ever. I actually played and beat the entirety of this game already, so lookout for a non-favorable review in the future. Sadly, this is the first game I played which used Wii Motion Plus to "enhance" the experience. Unfortunately for anyone playing it, the game is so bad that nothing can enhance the overall experience beyond "shitty." The concept is solid: you use the Wii Remote as a one-to-one representation of a sword, and you battle legendary and cliche swordsmen throughout history like Lancelot the knight, a huge muscle-bulging Viking, and even a robot in Punch-Out like third-person battles. Oddly, the controls just aren't there, and you'll find yourself flailing around wildly with little to no action happening on screen. It's… bad, and should be avoided by all.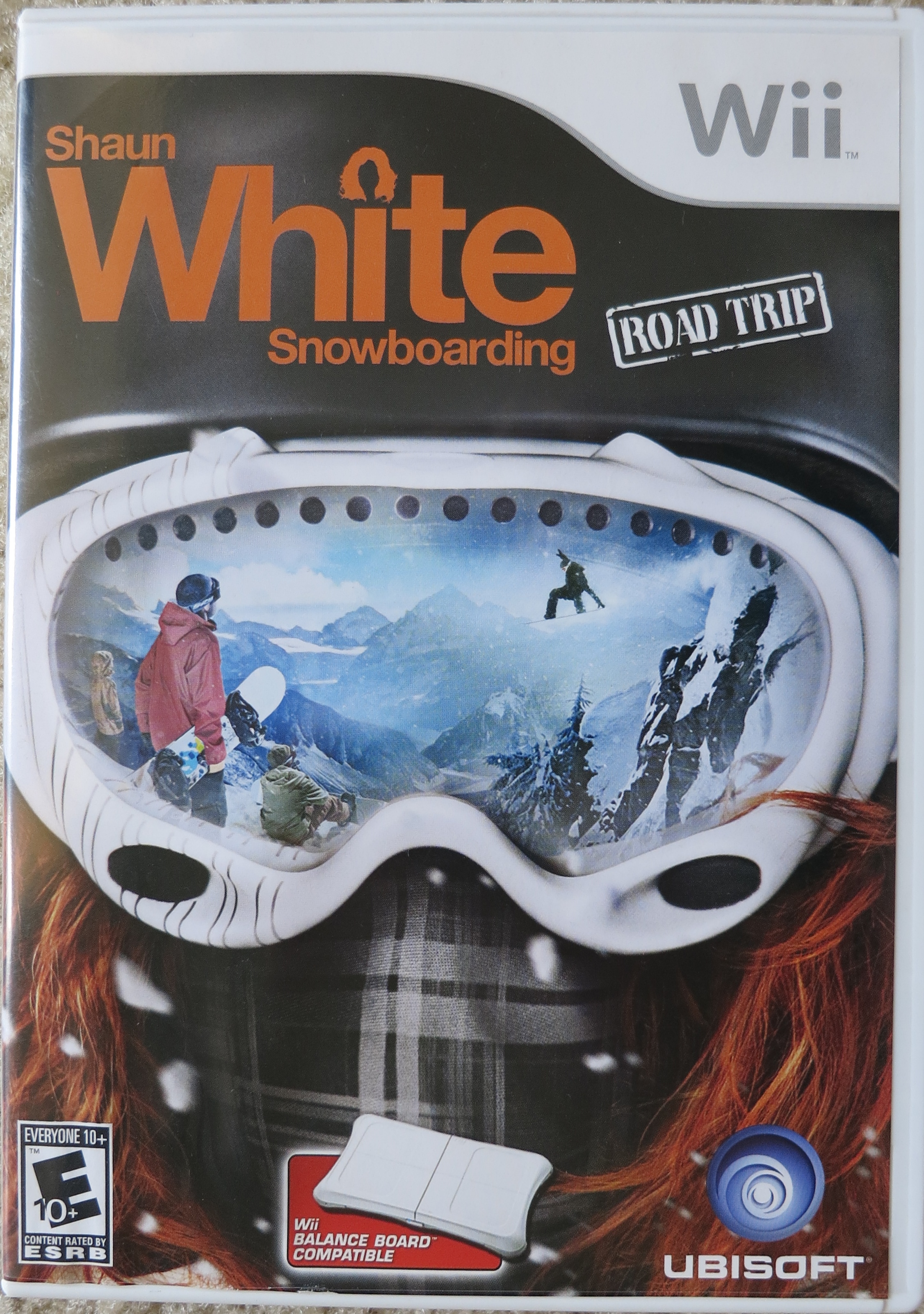 Shaun White Snowboarding
Wii
Release Date: November 16th, 2008
Purchased at: Craigslist (Sunnyvale, CA – $20 Bundle)
Laura saw on one of our Meet Up groups that someone was selling a whole bunch of lightly used or new board games. We bought a few, and the guy happened to be selling a Wii Fit balance board complete in the box, with a copy of the Wii Fit game, as well as this one. When I inquired, he asked me to make him an offer. I low-balled him at $10 because I didn't really think I wanted it, but when he considered it an counter-offered at $20, I decided I'd go for it! A complete, still-in-box Wii Fit game and balance board, along with the Shaun White game that's supposed to be good for just $20 is a HUGE win! I felt sorry for the guy for kind of giving him a low price, but when Laura assured me he just wanted the stuff out of the house fast, I was happier. And when I consider he actually made me the offer, then I didn't feel so bad.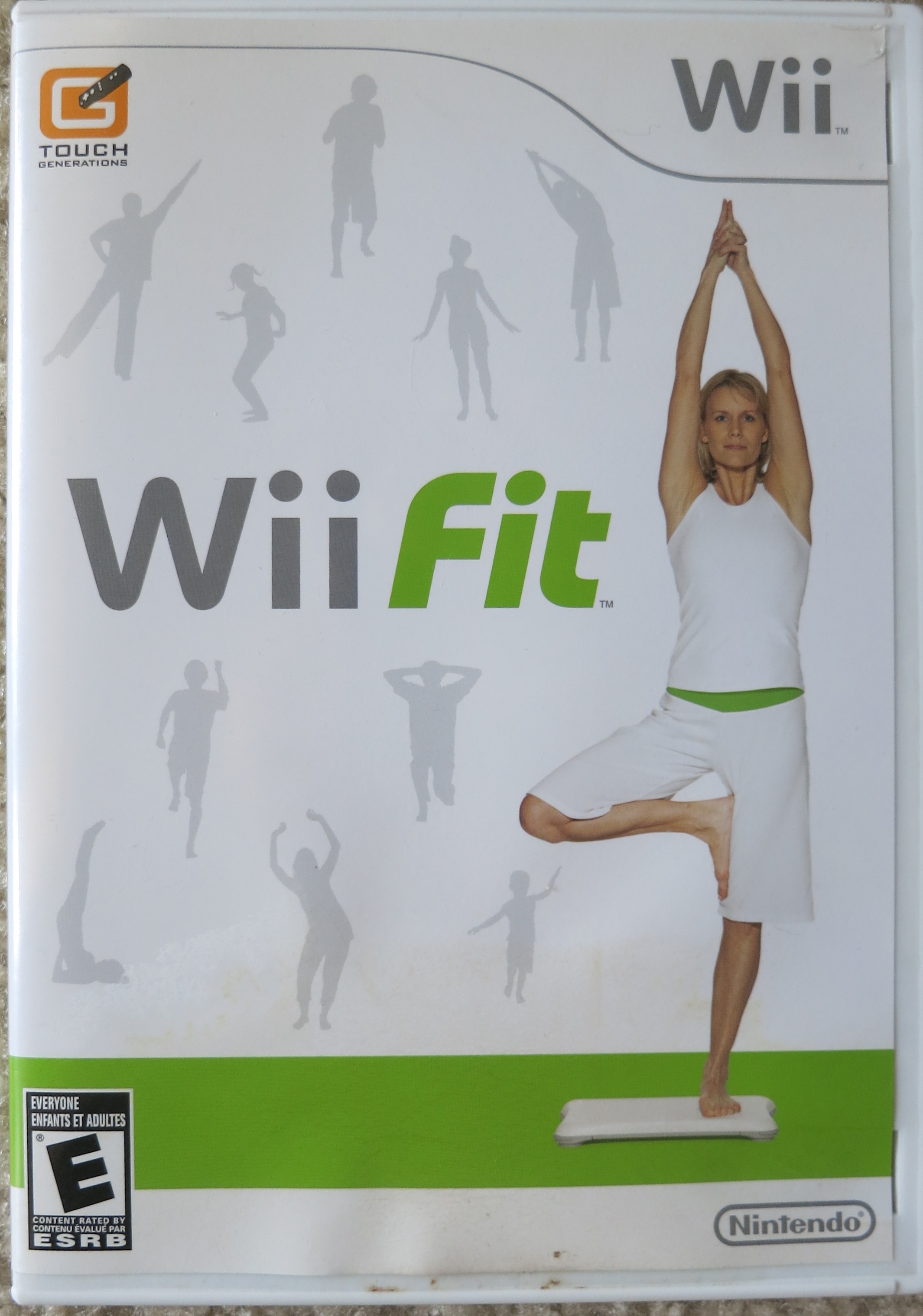 Wii Fit
Wii
Release Date: May 21st, 2008
Purchased at: Craigslist (Sunnyvale, CA – $20 Bundle)GameStop frequently has this game used in stock, and it sells for just $1. I believe that's because there's an enhanced version out called Wii Fit Plus, which features everything available in this game as well as totally new workouts and moves. I'll keep my eyes open for that game cheap. I kind of this with the, what, 20 some odd MILLION copies of Wii Fit and the board out there, someone is likely selling Wii Fit Plus on the cheap via Craigslist or a garage sale or something like that.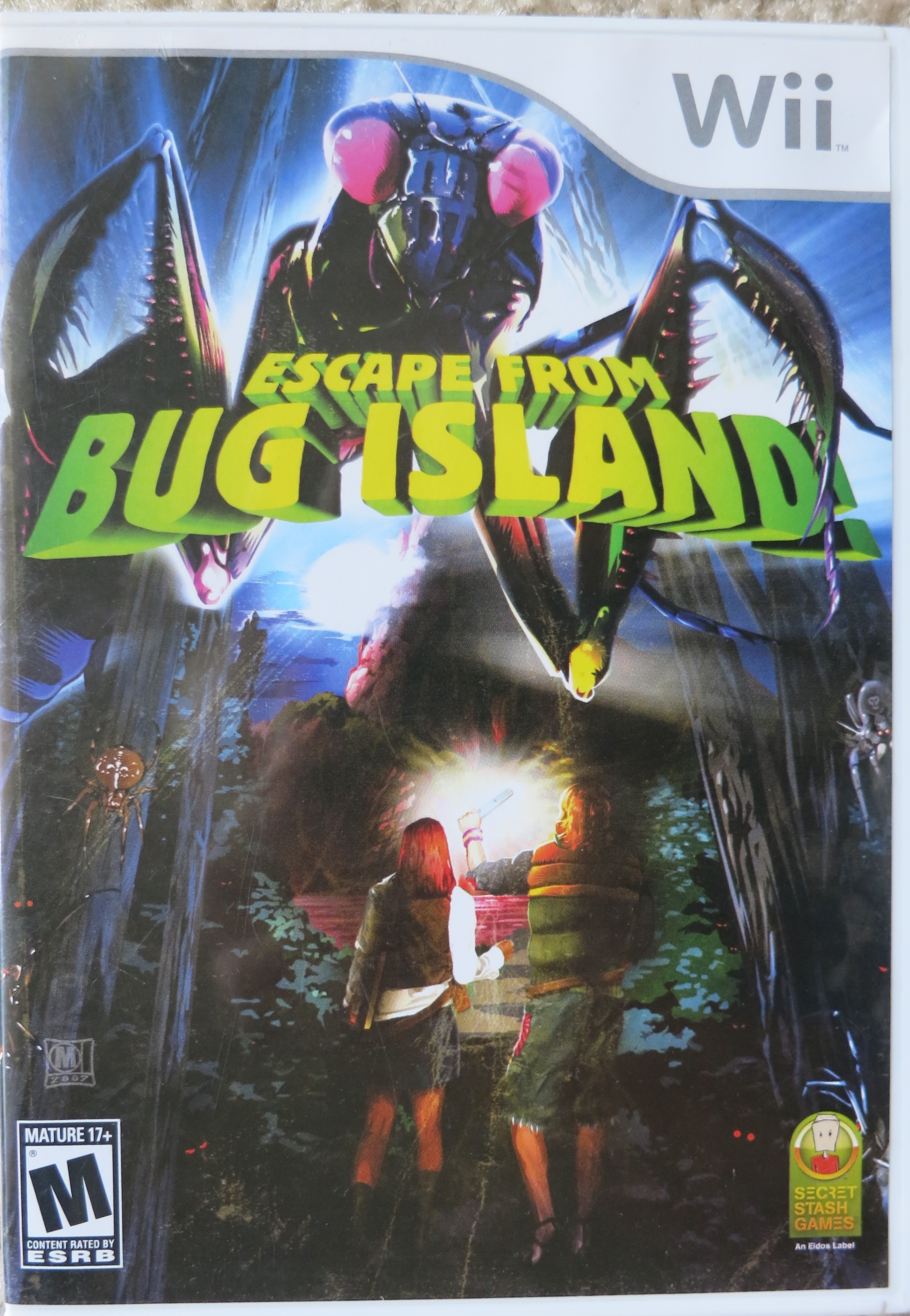 Escape From Bug Island
Wii
Release Date: July 25th, 2007
Purchased at: eBay (Online – $5)
Sadly, I bought this game off a seller on eBay and I popped it in to play this week and it didn't work. The Wii U recognized it as Escape From Bug Island, but it kept saying the disc couldn't be read. When I took the disc out and inspected the back, it was horribly scratched! I looked up what to do with these messed up games, and a common solution that kept coming up was to use toothpaste of all things to smear on the back and make the game playable. I don't really have anything else to lose on this game, so I'm going to try it and see if it works. A lot of folks online swore by the method, so I'll give it a shot.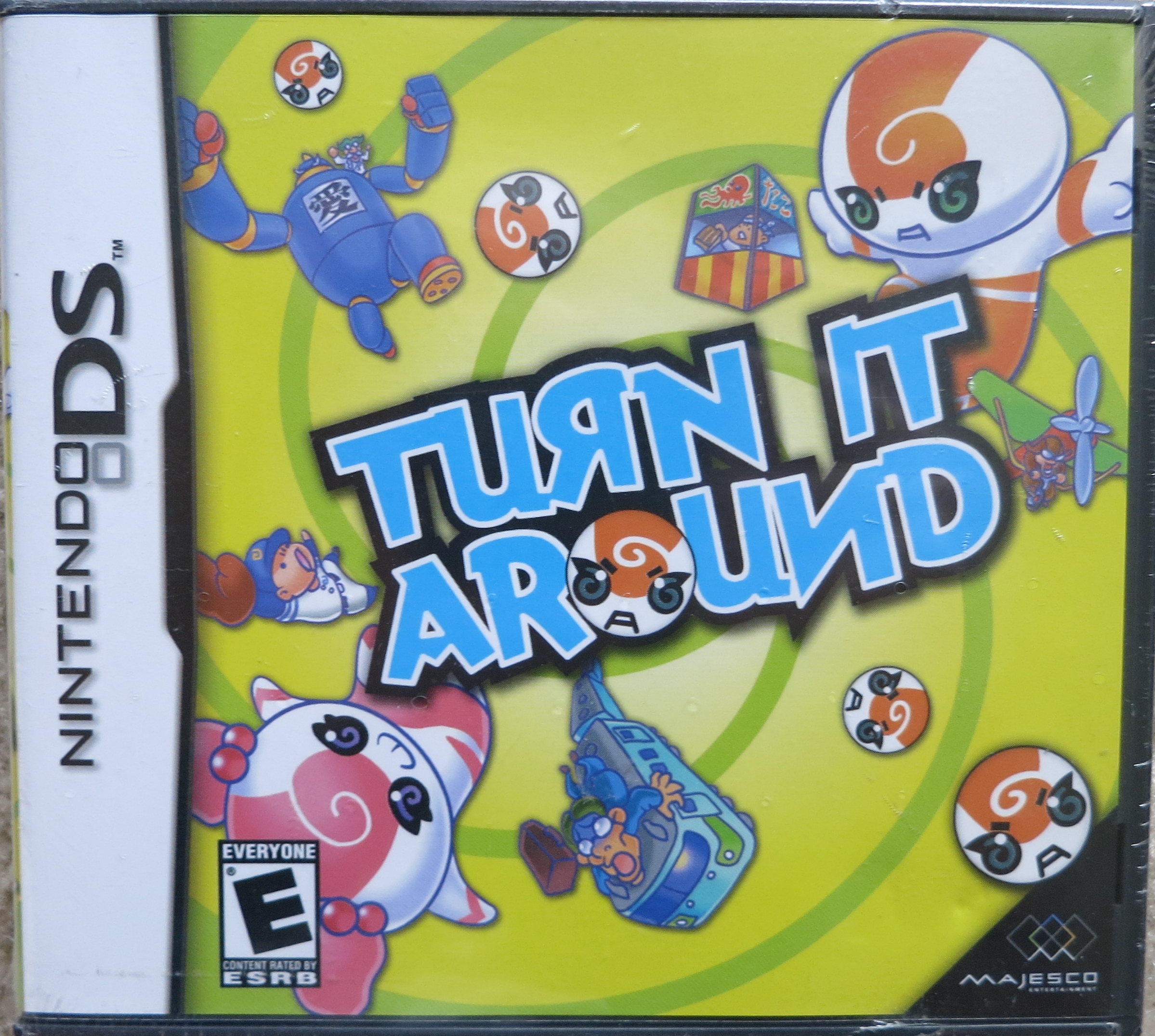 Turn it Around
DS
Release Date: August 27th, 2007
Purchased at: Amazon (Online – $4)
At just $4 I found this game interesting enough. The characters on the cover are the same ones on Furu Furu Park. I'm guessing the two games have something in common, but maybe it's just the same characters because its the same minigame collection type of game. In Turn it Around, all of the minigames incorporate a wheel you must spin to find success in each game. Some online outlets complain the gameplay is repetitive (how many times can you spin a wheel and it be interesting?), but I'll be the judge. Speaking about the Wii game, I actually saw it at a San Jose GameStop and kind of regret not buying it. I hope I can find it again.
Laters,
Jsick