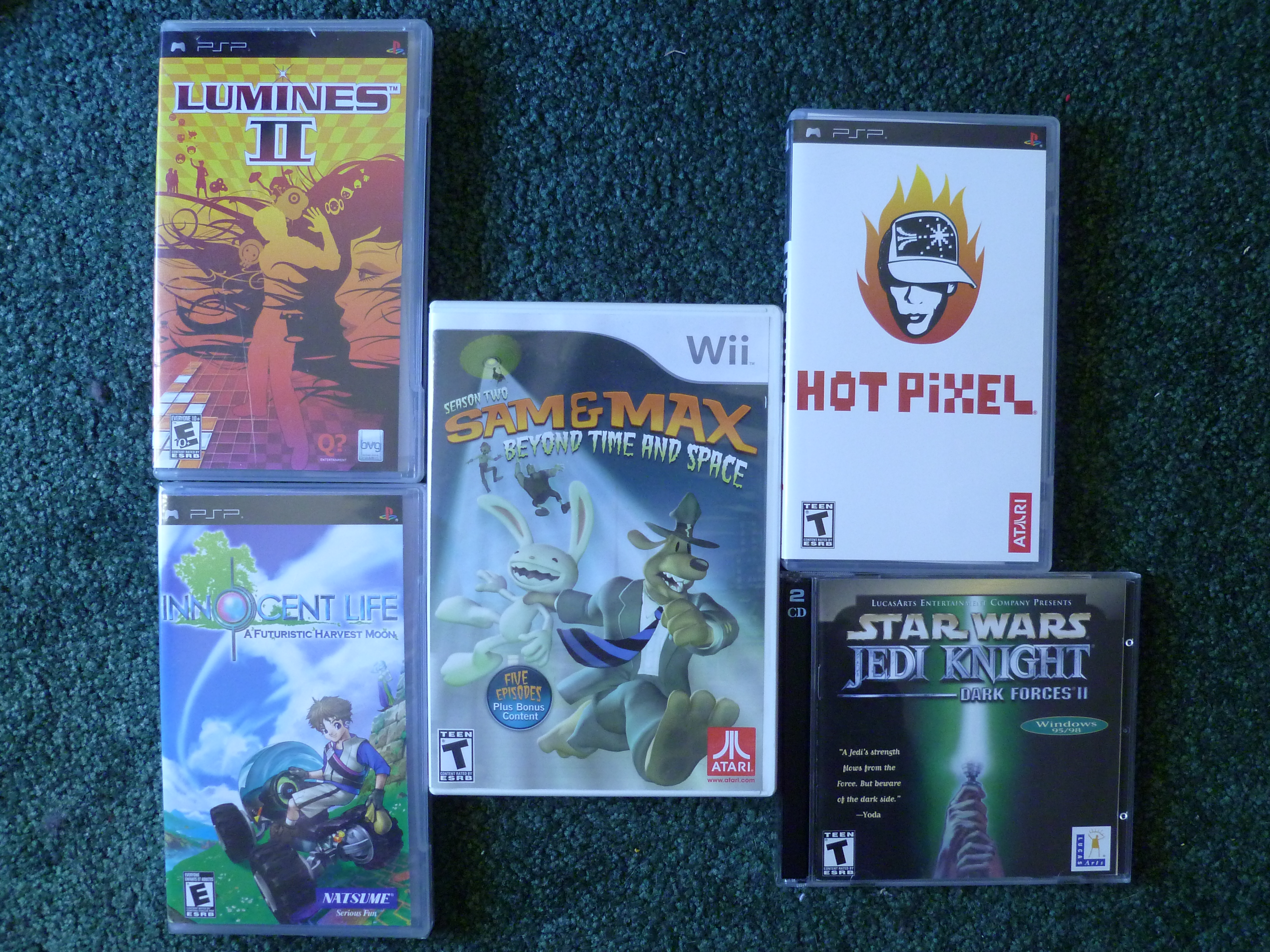 I thought I was working quite a lot lately, so when I finally got a day off I decided I owed it to myself to spend a little bit of this money I was earning. With that in mind I went a few towns over where they have a much nicer mall and shopping experience than my own city and found a few good deals. The best thing of all, aside from finding these games in great condition, was that I got them all for less than $20!
---
Hot Pixel
PSP
Release Date: October 2nd, 2007
Purchased at: Disc Replay (Merrillville, IN – $3)
This game was recommended to me be a friend and fellow blogger, and since then I've been trying to find the game in complete form (meaning with the game, case, and instructions). Fortunately I finally found it some time later, but for only three bucks! The game is a collection of mini-games, with some of them being short versions of classic Atari games. For just three bucks and a Wario Ware like feel, I say go for it.
Innocent Life: A Futuristic Harvest Moon
PSP
Release Date: May 15th, 2007
Purchased at: Five Below (Merrillville, IN – $5)
This is the second time purchasing this game, albeit on a different console. I snatched up the PS2 version of the game a while back for a few bucks. The real story here is the store I bought the game at: Five Below. It's a dollar store that sells everything, you guessed it, for five dollars or less. This also includes brand new video games, sealed with the original packaging (as is this game). Most of these games are older, being released years ago, but I actually got a few great titles that weren't too old from the store on previous visits. I'm definitely a believer in the store now, and you should too. They've got some sweet products there too aside from games, so I recommend checking it out if you see one.
Lumines II
PSP
Release Date: November 6th, 2006
Purchased at: Gamestop (Merrillville, IN – $3)
I saw the game sitting on the rack and I thought, "Oh, Lumines II. I should probably get that for three bucks because it's a good series and I already have the first one." So I buy it. And when I get home I have a sudden realization: I don't have the first Lumines on PSP! This is a crime, considering it probably the first must-have PSP title ever created. And I've seen the game just about everywhere, so why have I yet to buy it? Thinking about it, I bet I haven't found the game in decent enough condition to buy, and just kept on looking. The time to buy is soon though. Very, very soon.
Sam & Max: Beyond Time and Space
Wii
Release Date: March 9th, 2010
Purchased at: Gamestop (Merrillville, IN – $5)
I didn't even know they made a Sam & Max game for the Wii. When I saw that it was the episodic adventures packed into one disc, and that it was only five dollars, it was an instant buy for me. Being a fan of the point-and-click genre, I found it strange that Sam and Max have eluded me for all this time. But I sat down and played through the first episode of the game and was satisfied. The animations were a bit choppy, and the load times were unbearable at points, but overall the humor and quirkiness of the world won me over.
Star Wars: Jedi Knight: Dark Forces II
PC
Release Date: October 9th, 1997
Purchased at: Goodwill (Merrillville, IN – $2)
Classic! This was my first time venturing to this Goodwill location, and I was initially disappointed when I saw their paltry amount of video games crammed into the corner of a glass display case. But there are inevitably PC/PS1 games that are tucked away with the CDs in a separate section. Sure enough, that's where I found this rather flawless copy of Dark Forces II. The second game in the Jedi Knight series, it completes my collection of the entire series. The game has been released via Steam, which might be the best way to play it, considering it runs on Windows 95 😀
Laters,
Jsick