Last year I was content to leave all of the California Extreme related posts to my Tumblr, which focuses entirely on video arcades and memorabilia. Coincidentally you should check that out if you want to know more about arcade games! This year however, I'm going to grace you all with the retro-filled weekend that was California Extreme 2014. Plenty of great games were played, a lot of machines I otherwise wouldn't have played in my life were dabbled with, and some games were completely beaten thanks to the wonderful Free Play setting.
---
First off, if you don't know what California Extreme is, then let me explain. Once each summer a retro arcade video game convention is held in Santa Clara, California. Arcade machine owners and enthusiasts bring their machines from all over the country for a fun-filled, nostalgia driven weekend. The two-day event is held in a huge convention center with every inch of space dedicated to arcade games and pinball machines from years and decades past. While a lot of the machines present are what you'd expect (Pac-Man, Galaga, Street Fighter II, etc.) there are still some harder to find machines and even some games you may have never heard of. In short, it's a convention for arcade games. What more could you want?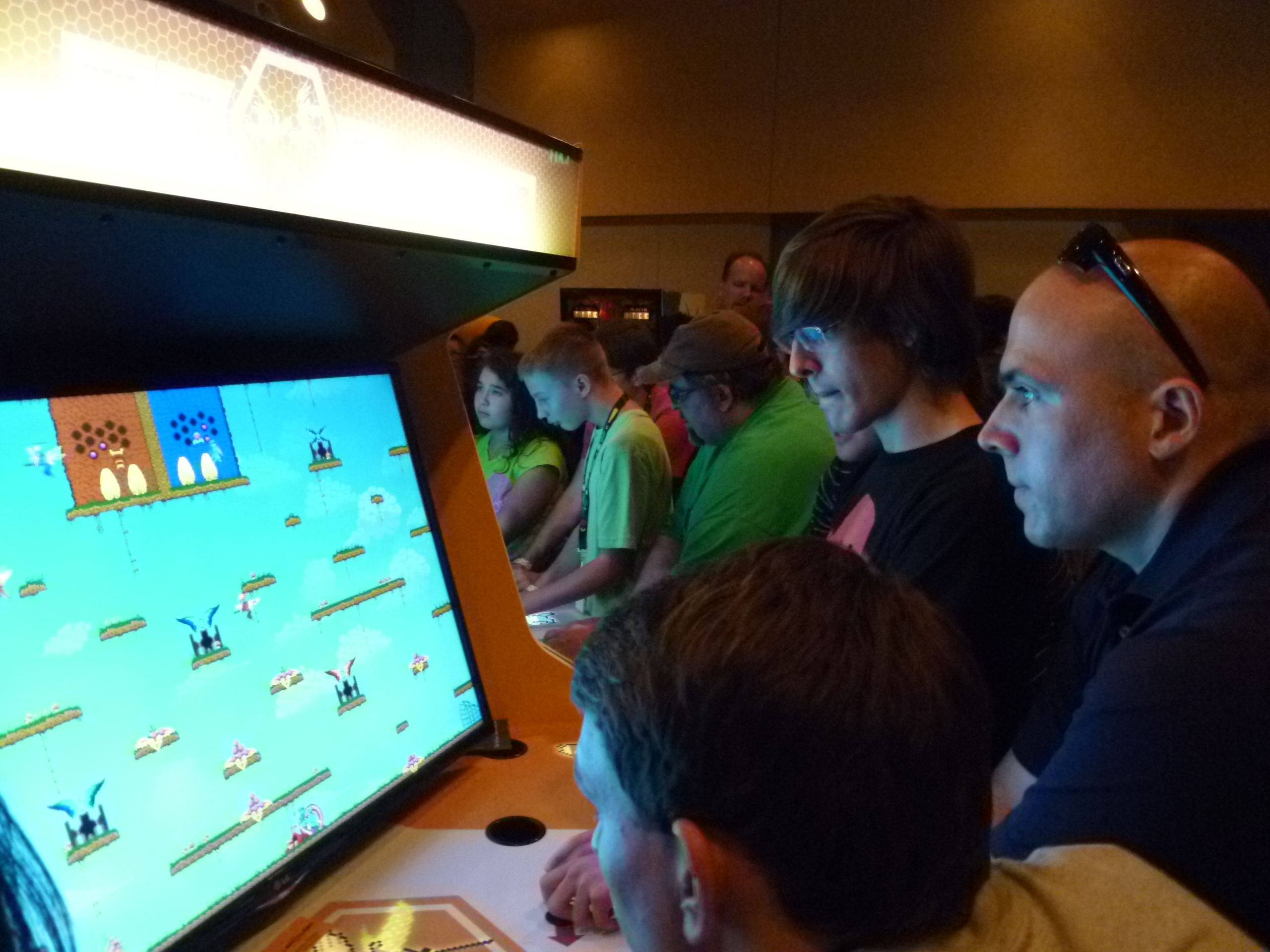 This year's show was better than last year's for a few reasons. The biggest being the layout. Last year it felt kind of strange walking into the convention center, seeing all the games, walking down an aisle, then literally having to turn around to leave because it was a dead end. Every pathway this year connected to another, making it much more accessible.
There were some games missing this year from last year, which is sad indeed, but there were also some games present at CAX 2014 that weren't there prior, not the least of which being a huge Bemani section. Everything from Dance Dance Revolution to ParaPara Paradise, Beatmania IIDX, and Pop'n Music were playable, as well as some newer games like Jubeat and DJMax Technika (which isn't Bemani, but it's close enough). This odd "dance" game called Dance Maniax 2nd Mix was there. In it you had to use your hands to hover over panels in beat with the music. Here's a video of Laura grooving out to Absolute:
[youtube https://www.youtube.com/watch?v=IowLMSKMQbA&w=560&h=315]
Other highlights were some rare/hard to find classics. I had a good time with this game called Chicken Shift, which is a puzzle game that has you guiding eggs down a path by manipulating pipes and elevators to ensure the eggs don't crack by falling down toward the goal. It was oddly addictive and quite fun. Also entertaining is Sega's Time Traveler. Essentially a Laser Disc game of nothing but quick time events, Time Traveler has a very unique cabinet that is easy to spot from afar.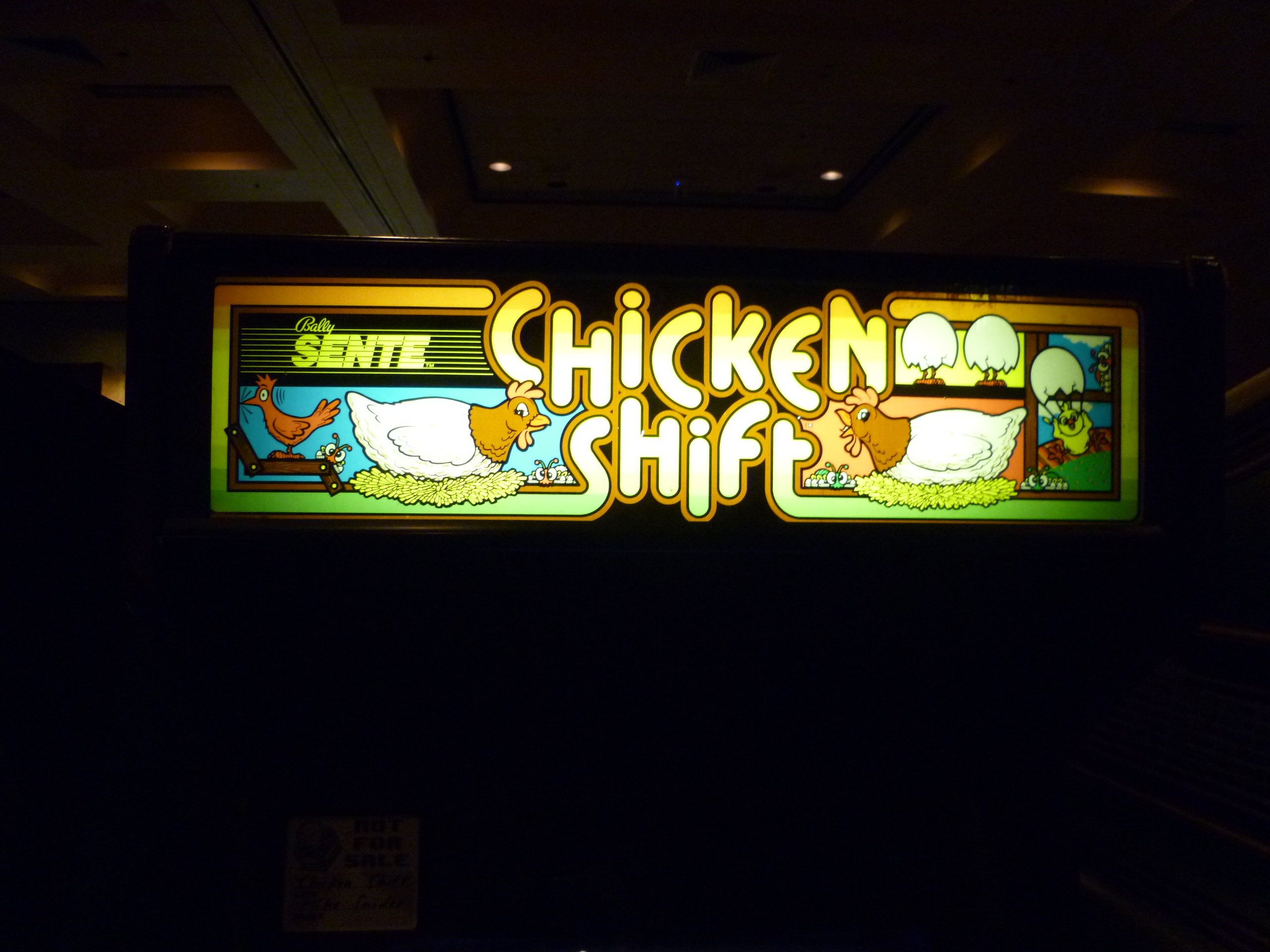 Since arcades are all but dead nowadays, it's fun to get a chance to play some of these games proper: in a dimly lit room with a bunch of strangers. Playing them on the many compilations available on consoles isn't quite the same. There are some games, however, that you simply cannot play anywhere else than in an arcade. As is the case with Cosmo Gang, a game I played and really loved last year that was present at this years show. Take a look at the midway game in action:
[youtube https://www.youtube.com/watch?v=ltsiUtxLycA&w=560&h=315]
Right next to Cosmo Gang was this crazy Sega title, Magical Truck Adventure. What catches your attention about this one is the controller: it's a huge lever and foot pedal. The game involves catching some strange thieves on a rail cart. You have to pump the lever up and down to gain speed, and slam on the pedal to dodge obstacles. It's… odd, and incredibly taxing on your arms:
[youtube https://www.youtube.com/watch?v=y44wZ13kdqk&w=560&h=315]
One game in particular was drawing quite the crowd consistently throughout the day: Killer Queen. Ironically, considering California Extreme is generally a retro gaming and pinball exposition, Killer Queen is a brand new arcade game featuring 8-bit graphics, 10-person team based multiplayer, and simple yet effective controls and concepts. In the game your team is racing to beat the other team by either gathering enough resources, depleting your enemy stock of lives, or getting a slow-moving snail to cross the screen into your goal area. It's fast, it's frantic, and it's freakin' fun! Check it out:
[youtube https://www.youtube.com/watch?v=u-JWjS80jxQ&w=560&h=315]
Everyone will have drastically different stories about their experience at California Extreme because there's something there for everyone. I barely played any pinball, which arguably makes up a third of the entire show floor. Some people there I swear spent all their time hanging around the Bemani/rhythm games. Some attendees were adults introducing their young kids to the games they grew up playing. And while there were some games I wish would have been present *cough*MortalKombatII*cough*, there were plenty, PLENTY to keep me entertained.
I'll leave you with a few pics I snapped at the show. Be sure to follow A World of Games to get all of my videos and photos from this year's show!